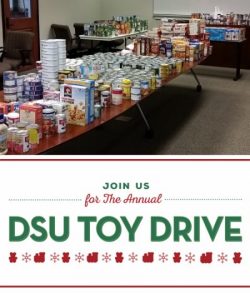 The season of giving has already begun at Delta State with its two main holiday gifting campaigns getting underway.
Each year, Delta State's Administrative Staff Council organizes the DSU Feed-A-Family Food Drive before Thanksgiving and the DSU Toy Drive for children from infancy to 10-years-old during the Christmas season.
The DSU Feed-A-Family program benefits staff and community members each holiday season by encouraging departments across campus to donate non-perishable items to help complete bags that provide a Thanksgiving meal to families in need.
Campus volunteers help sort, pack and deliver these items.
"Feed-A-Family is as a way to give back to the DSU family and community," said Rhonda Loper, program coordinator. "Without the generosity of the DSU staff, faculty and students, we would bot have been able to provide nearly 100 bags of food last year."
Departments are encouraged to begin collecting donations in their respective offices, which will be collected now through Nov. 16. Pickups will be available upon request Nov. 14-16.
Loper said community groups and churches have also signed up this year to contribute to the food and toy drives.
The annual DSU Toy Drive has also been a mainstay at Delta State during the holidays. Collection of toys will begin Nov. 28 and run through Dec. 15
Unwrapped gifts are sought for children from infancy to 10-years-old and will be donated to youth identified by the Bolivar County Family and Children's Services.
To take part in the toy drive, bring donations to bring donations to the Registrar's office in Kent Wyatt Hall.
For more information about DSU Feed-a-Family or the DSU Toy Drive, contact Loper at rloper@deltastate.edu or 662-846-4041.
Delta State's Staff Council serves as a liaison between the administration and the staff to provide a formal process for staff to discuss issues involving university policies and procedures, and to forward ideas, recommendations and options to the president.