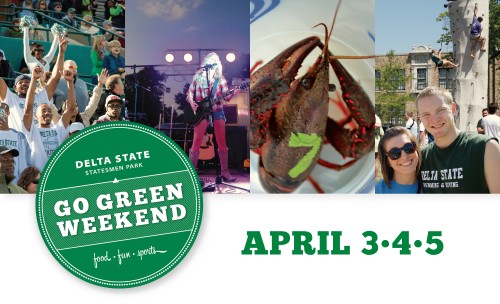 Delta State University is shaping a new student-based tradition with an exciting program called Go Green Weekend, scheduled on campus and in the community April 3-5.
The program is sponsored by Delta State's Office of Admissions, National Alumni Association, Athletics, Student Government Association, Union Program Council and the Cleveland-Bolivar County Chamber of Commerce.
Fun will come in all forms as the weekend features the 42nd annual Springfest, Bolivar County Alumni Crawfish Boil & Social, a number of spring sports home games — including a Statesmen football scrimmage — tailgating, entertainment, Junior Day touring for high school juniors, the inaugural Delta Duathlon and more.
Chris Gaines, director of recruiting, said the purpose of the weekend is to encourage current students, alumni, faculty and staff members to unite and show potential students that Delta State is an outstanding university.
"We want this weekend to be memorable for everyone involved, especially the students," said Gaines. "This is a unique opportunity because we haven't had a big spring semester event of this magnitude in the past. It's a perfect opportunity to get everyone involved."
Student Government Association President Sydney Hodnett said from a student perspective, Go Green Weekend offers enough variety to appease the entire student body.
"Part of our job with the SGA is to make sure there are fun opportunities available through campus," said Hodnett. "Go Green Weekend will be packed with awesome festivities and also show potential students what we have to offer.
"We'd like to thank the Union Program Council for their support in organizing and funding activities."
Events kick off April 3 from 2-6 p.m. with Springfest on the quadrangle. The festival features games, food, music, entertainment and more.
The following day begins with a community cleanup of downtown Cleveland from 8 a.m. to 3 p.m. Lady Statesmen and Statesmen tennis matches start at 1 p.m., followed by tailgating and a sausage and jambalaya cook-off at 3 p.m. Live music and entertainment begins in Statesmen Park at 8 p.m.
Saturday launches at 8 a.m. with the Delta Duathlon, a running and biking race through Cleveland for youth and adults. The inaugural duathlon is organized by the Delta State Department of Health, Physical Education and Recreation and Recreation Leadership.
The fun continues at the Cleveland Country Club at 8:30 a.m. with the Wyatt Golf Classic, followed by the Lady Statesmen alumni soccer game at 10 a.m. Junior Day meets at the H.L. Nowell Union, also at 10 a.m., and the football scrimmage kicks off at 11 a.m. at Parker Field-McCool Stadium. The Statesmen alumni soccer game begins at noon.
Statesmen Park will be rocking at noon with a big group of events scheduled, including a kids zone, silent auction, Student Organization Fair and a number of other entertainment activities. The cook-off winners will be announced at 2 p.m.
The Lady Statesmen softball team squares off against Lee University at 2 p.m., while the Statesmen face Lee at 3 p.m. Both teams will compete in doubleheaders.
The festivities wrap up at 5 p.m. in Statesmen Park with the Bolivar County Alumni Crawfish Boil & Social.
For more information on Go Green Weekend, visit www.deltastate.edu.