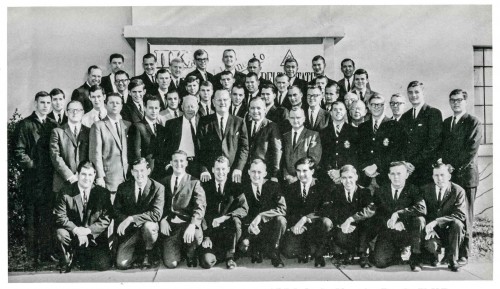 Pi Kappa Alpha Fraternity at Delta State will celebrate its 50th reunion weekend on Feb. 28 and March 1. The planning committee has been working hard to organize the events.
"Zeta Beta is proud to celebrate 50 years of excellence at Delta State University, during which time our chapter has heralded over 1,000 men who have served our community, state and country with pride," said Carl "Trey" Labella '97. "We look forward to the challenges of the next 50 years and continued successes by developing future leaders by virtue of friendship through brotherhood, love of our university, American pride and truth to our core beliefs."
The weekend will kick off Friday evening with an informal meeting at the Pickled Okra in downtown Cleveland. Dinner is not included but there will be a reception area reserved, which is first-come, first-serve. Saturday morning at 7 a.m., the active Pi Kappa Alpha chapter will initiate a special member of the Delta State/Cleveland community. The 4-Man golf scramble will begin at 9 a.m. at the Cleveland Country Club with a shotgun start. Participants may register as a team or sign up and be assigned to a team prior to start. Lunch, green fees and cart are included. Non Pi Kappa Alpha members are welcomed to play golf. To sign up, contact Craig Verhage at 662-719-7141.
The Fireman's Ball, 50th Reunion Dinner will be Saturday night at the Cleveland Country Club from 6:30 – 10 p.m. The dress code is black tie and tickets are $100 per person and $60 for active chapter members. The cash bar social will begin at 5:30 p.m. The keynote address will be given by Pi Kappa Alpha CEO Justin A. Buck, and several special guests from the Delta State University Administration, Cleveland community and local political figures will also be in attendance. Distinguished Alumnus Award will also be announced during the dinner.
Alumni or active members who have photos or memorabilia are encouraged to submit these items. There will be a slide show featuring pictures from the past, and memorabilia will be displayed at the dinner. Photos can be sent to Lee Gladden at leegladden@att.net, and those planning to bring memorabilia can contact Michael Montgomery at montgomery55@me.com.
To register for events, visit https://zetabetapikes.eventbrite.com. For more information, contact Labella at 210-422-2058 or treylabella@yahoo.com.