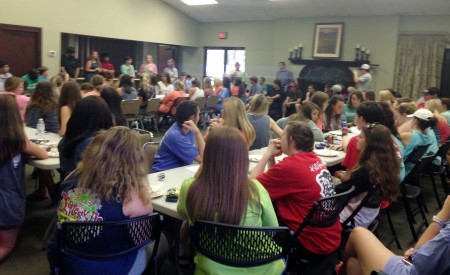 The Delta State University Student Alumni Association held its first meeting of the semester Wednesday at the Hugh Ellis Walker Alumni Foundation House. With over 100 students in attendance, the organization's participation has grown from last year.
"We were very pleased with the turnout for our first meeting," said Jordan Thomas, SAA advisor. "Our officers have worked very hard spreading the word about our organization, and I think we have an excellent group this year."
The Student Alumni Association is a bridge between the Delta State student body and the Alumni Association. The entities work together on projects such as Pig Pickin' and Homecoming. SAA is also very active in the community. Additionally, the group sponsors a scholarship available for a student who has shown outstanding leadership while being a member of the organization.
This year's officers are: Brooks Bishop, president; Olivia O'Reilly, vice president; Hannah Goudy, secretary; Jared Kirk, treasurer; and Meredith Brown and Whitney Crum, special projects and events coordinators.
For more information, contact the Alumni Association at (662) 846-4660. To stay up to date on the Alumni Association's activities, follow these social media sites: Facebook (Statesmen Graduates), Twitter (@DSU_Alumni), Tumblr (http://www.dsualumni.tumblr.com), LinkedIn (DSU alumni), Instagram (dsualumni) and You Tube (dsualumni1).