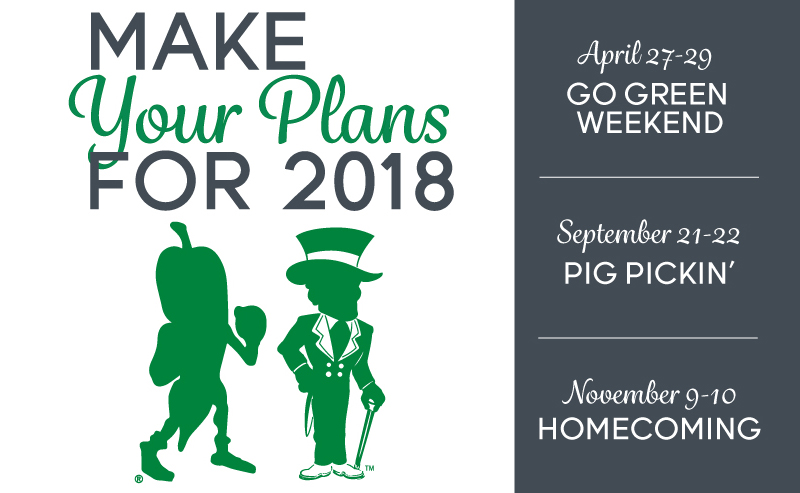 The Delta State University National Alumni Association recently announced event dates for 2018 Go Green Weekend, Pig Pickin' and Homecoming.
On April 27-29, join the Green and White Nation for the fifth annual Go Green Weekend at Delta State. Celebrate the spring season with tailgating, live entertainment, athletic games, activities for the family and more. Come out to support the Statesmen and Okra for a weekend of food, fun and sports. Freshmen and transfer Future Statesmen are invited to attend Spring Preview Day during the weekend. A more detailed schedule and registration will be available soon.
The 33rd annual Pig Pickin' will be held Sept. 21-22, as the Statesmen football team hosts North Greenville University. Make plans now to tailgate in Statesmen Park with friends and fellow alumni. Visit www.dsupigpickin.com and join the Facebook event page at https://www.facebook.com/events/503121896754250/ for the most updated information. The full schedule of events will be announced at a later date.
Homecoming 2018 has been set for Nov. 9-10, and the Statesmen football team will face off against Mississippi College. Throughout the weekend, the Delta State Alumni Association will host a variety of activities. The class of 1968 will be featured and honored in recognition of their 50-year reunion. They will also be inducted into the prestigious Golden Circle, which is a constituency group of the National Alumni Association that honors alumni who graduated at least 50 years ago. The Alumni Association will also recognize the Outstanding Alumnus of the Year, Alumni Hall of Fame and other service awards. The official Homecoming website is http://www.deltastate.edu/student-life/dsu-homecoming/. View the Homecoming Facebook event page at https://www.facebook.com/events/195170841227361/. Stay tuned for details as the Homecoming Taskforce continues to finalize this year's schedule.
"The Alumni Office has mailed 20,000-plus save-the-date postcards to our alumni and local businesses promoting these signature annual events," said Jeffrey Farris, alumni director. "Make it a priority to return to your university town by booking your hotel reservations months in advance."
Email alumni@deltastate.edu with questions, and for travel info and local accommodations, visit www.visitclevelandms.com.
The official hashtag for Go Green Weekend is #GGW, Pig Pickin' is #DSUPigPickin and #DSUHC for Homecoming.