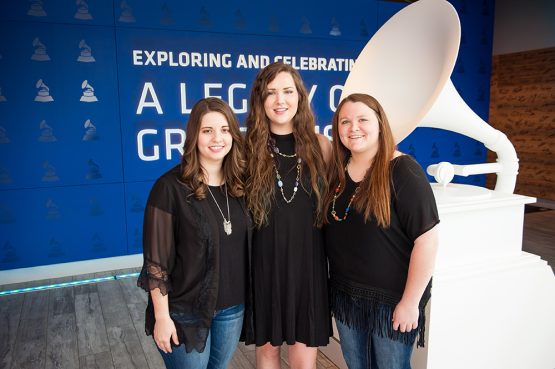 Officers for the GRAMMY U chapter at Delta State University have been elected for the 2016-17 year.
Kailey Mathis, a junior entertainment industry studies major from Madison, Mississippi, was elected as this year's president. Jessica Faith Wishard of Monticello, Arkansas will serve as vice president. Brittany McGee of Ecru, Mississippi will serve as secretary/treasurer.
GRAMMY U is a unique and fast-growing community of college students, primarily between the ages of 17-25, who are pursuing a career in the recording industry. GRAMMY U events and special programs touch on all aspects of the music industry, from the technology to the tracks themselves. Events are scheduled throughout the semester to give members a wide variety of experiences and professional development. Because GRAMMY U is part of The Recording Academy, members have extraordinary access to the industry and its artists.
In setting the vision for this year's group, Mathis said, " I hope to see our current and new members participate more within our chapter and in our community. A big thing we want to implement this year is group service projects around the community. We are planning some projects to help local charities, sing at the nursing homes, and also make efforts to help clean the Delta State campus and some streets in Cleveland."
The Delta Music Institute is an independent center of study under the College of Arts and Sciences at Delta State University, offering a bachelor's degree in Entertainment Industry Studies. The focus of the DMI is to provide students with a broad and thorough education in the technological, creative and business areas of the music and entertainment industry. For information, contact 662-846-4579 or visit http://dmi.deltastate.edu.