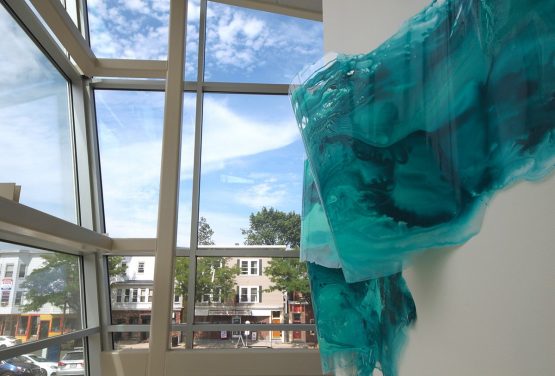 Delta State University's Fielding Wright Art Center Gallery presents an exhibition of Resa Blatman's "Gaia Series," a multimedia installation that addresses the causes and effects of climate change.
An opening reception to launch the exhibit will take place Nov. 3 from 5-7 p.m.in the gallery. Blatman will discuss the exhibit before the reception at 4 p.m.
Blatman's exuberant, multi-layered paintings have always been inspired by nature, but in recent years, her attention has turned to the alarming signs of climate change – global warming, shrinking arctic icecaps, rising water levels, extreme weather conditions, extinction of animal species, migration of species and the growing scarcity of natural resources.
The title of Blatman's series derives from the Gaia hypothesis developed by James Lovelock and Lynn Margulis which provides a model for understanding the threats caused by environmental pollution, industrial exploitation of natural resources, and the growing world population. The theory sees our planet as a complex, synergistic, self-regulating system that helps to sustain conditions for life on Earth. 
Blatman recently completed a residency in the Arctic, where she could observe the effects of climate change firsthand. Many of the works in the exhibition were directly impacted by her experiences there. She does not claim to be a scientist but speaks from the perspective of a concerned citizen. She hopes her work inspires discussion and raises awareness of the issues while also providing her audience with an engaging visual experience.
Blatman is an independent artist from Somerville, Massachusetts. She earned a MFA from Boston University and a BFA from the Massachusetts College of Art and Design. She has had one-person exhibitions at the Museum of Arts and Sciences in Macon, Georgia; Montserrat College of Art in Beverly, Massachusetts; Hartnett Gallery at the University of Rochester in Rochester, New York; and other places. Additionally, she has been included in numerous group exhibitions, most recently at the Spartanburg Art Museum in Spartanburg, South Carolina . Her work is in public and private collections across the United States, Europe and South Africa.
The exhibition will run until Dec. 8.
Gallery hours are Mondays through Thursdays from 8 a.m. to 5 p.m. and Fridays from 8 a.m. to 4 p.m. The gallery is closed on weekends, holidays and during semester breaks.
For more information, visit the Department of Art's website at http://www.deltastate.edu/college-of-arts-and-sciences/art/, or contact 662-846-4720. For updates and announcements of upcoming events, follow Delta State Art Department on Facebook, or join the email list.