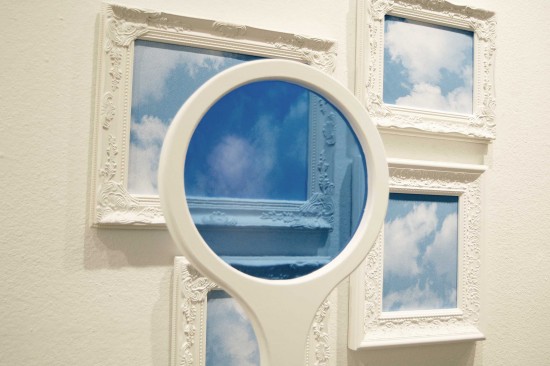 Delta State University's Fielding Wright Art Center's first exhibition of the year, "Napoleon's Wallpaper," by Candace Hicks, opens the season with a public reception Thursday from 5- 7 p.m.
Hicks is a printmaker and book artist based in Nacogdoches, Texas. "Napoleon's Wallpaper" treats the gallery as a puzzle box to be solved by the viewer — a combination of prints that reveal secret messages when viewed through special colored glasses; kinetic sculptures that reveal clues; puzzles that can be manipulated physically to reveal hidden compartments; and wall texts that guide the viewer from one station to the next —  the exhibition operates like a game.
Hicks uses her background as a book artist to produce the exhibition of objects that look like art, but are actually part of an interrelated narrative puzzle. Books take for granted that viewer participation is necessary to complete the work, and "Napoleon's Wallpaper" combines a storybook, interactive puzzle, and art exhibit into a room-sized installation. The viewer experiences the immersive quality of reading a mystery novel and solving the clues. It includes many moving parts that invite interaction. It resurrects forms of spectacle from the past — optical illusions and early animation devices — and these forms are employed holistically to present a cohesive story that can only be solved with viewer participation.
"Napoleon's Wallpaper" refers to an anecdote regarding the cause of Napoleon's death. According to Hicks, he supposedly died from exposure to arsenic in the dyes used to print his wallpaper. Hicks once read three accounts of this story in the same week and felt like she was receiving a secret, albeit meaningless message from the universe.
Hicks is an assistant professor at Stephen F. Austin State University in Texas. "Napoleon's Wallpaper" has recently been installed in Houston, Texas. Her work has also been shown in Rochester, New York; Ashville, North Carolina; Decatur, Georgia; Denver, Colorado; New York City; Moscow, Russia; Vilnius, Lithuania; Budapest, Hungary; and more.
The exhibit will run from Jan. 14 through Feb. 26.
The FWACG is open Monday-Thursday from 8 a.m. to 5 p.m., and Fridays from 8 a.m. to 4 p.m. The gallery is closed weekends, holidays and during semester breaks.
For more information on the Department of Art, visit http://www.deltastate.edu/college-of-arts-and-sciences/art/, or contact 662-846-4720. For updates and announcements of upcoming events, follow Delta State Art Department on Facebook, or join the email list.