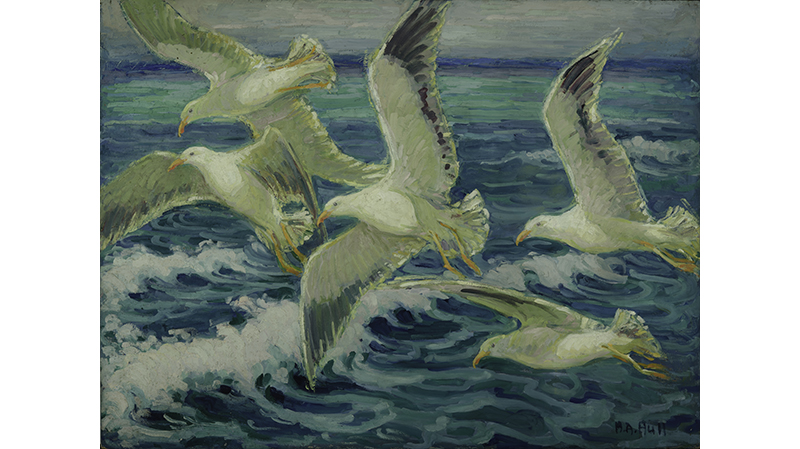 Marie Hull (1890-1980), "Gulls in Flight," not dated. Oil on wood. Collection of the Mississippi Museum of Art, Jackson. Gift of the artist.
To celebrate Mississippi's bicentennial year, the Mississippi Museum of Art is curating "Art Across Mississippi: Twelve Exhibitions, Twelve Communities," creating exhibitions from its collection for a dozen host venues across the state.
The statewide program provides residents with an opportunity to enjoy high-quality exhibitions from the museum's permanent collection in their home communities, to reflect on the rich heritage of Mississippi's visual arts, and to contemplate the meaning of the bicentennial moment.
Delta State's Fielding L. Wright Art Center will partake by hosting "Home and Away: On the Road with Marie Hull," from June 8 to July 27.
Beloved Mississippi artist Marie Hull traveled far and wide throughout North America as well as France, Spain and Morocco. The artist left 67 of her sketchbooks to the MMA, which are filled with drawings and remarkable paintings from her travels. From this unique trove of private treasures, the museum has selected individual sheets for a behind-the-scenes glimpse into the creative process of one of Mississippi's master artists. Several of her masterful oil paintings will accompany the exhibition.
Other exhibitions feature artworks by regionally acclaimed artists — past and present — including Walter Anderson, William Dunlap, William Ferris, Ke Francis, Hystercine Rankin, Sulton Rogers and many others.
"Art Across Mississippi" exhibitions are organized by the MMA, from its permanent collection, as companions to "Picturing Mississippi, 1817-2017: Land of Plenty, Pain, and Promise," the latest in The Annie Laurie Swaim Hearin Memorial Exhibition Series. "Picturing Mississippi" will be on view Dec. 9, 2017 through July 8, 2018 at the MMA.
Bicentennial exhibitions created by the MMA are supported by the Robert M. Hearin Support Foundation and the state of Mississippi, through the Mississippi Department of Archives and History. Additional support for "Art Across Mississippi" is provided by Ross & Yerger, Trustmark, Entergy, Mississippi Media and Mississippi Power.
For more information on Art Across Mississippi and Picturing Mississippi, visit www.msmuseumart.org.