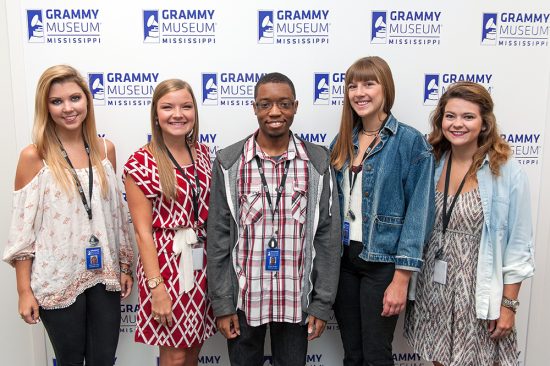 A number of Delta Music Institute students are making their mark at GRAMMY Museum® Mississippi this summer as museum interns.
The museum, which opened on Delta State's campus in March, is providing unique opportunities for entertainment industry majors enrolled at the DMI.
"Because Delta State is a designated GRAMMY Affiliate University, the partnership between DSU and GRAMMY Museum Mississippi immediately places our students in a professional network of music and entertainment industry professionals," said Tricia Walker, director of the DMI. "We hope that the knowledge students have gained in the classroom will be reinforced in a professional work setting. It's important for them to begin to make that transition from student to professional, and their internship experience is critically important in that transition."
DMI students Gregory Braggs and LindseyAnna Pardue are currently enjoying their internship responsibilities.
"This has been a great learning experience so far," said Braggs. "It's given me the opportunity to work with new equipment and troubleshoot issues. A lot of things I've learned at the DMI, I'm using here, and it's great to work in this environment."
Braggs, who works as an operations/production intern, edits publicity videos, operates visual equipment for different events and programs, and helps design publicity material. Pardue is serving as an administrative intern, where she assists the administrative coordinator with daily operations, and assists with office management projects and tasks.
Former DMI student Katie Ann Locke is also serving as an administrative intern. Other interns include University of Mississippi students Holly Ruth Pitts and Mary Parker Janoush.
Mary Parker is the daughter of Lucy Janoush '78, president of the Cleveland Music Foundation and a key figure in making the museum a reality in Cleveland. Lucy was named the 2015 Delta State University Alumnus of the Year.
And the ties to the DMI run deeper thanks to the museum's administrative coordinator, Chace Holland, a DMI graduate in 2015.
"I like seeing the different opportunities the Grammy Museum has brought here, especially to the students," said Holland. "It's good to give back to Delta State and the DMI program so all the students can have similar opportunities I had as a student. The relationship is a great one, and it's going to grow exponentially with everything that's being offered here."
Walker is thrilled to have DMI students at the museum.
"The internship opportunities at GRAMMY Museum Mississippi provide valuable 'real world' experience for our entertainment industry students in the areas of audio/video production, event management, and marketing/promotion," said Walker. "It's also important for them to develop their people skills in working with the public, whether that be visitors to the museum or clients using the facilities for specific events."
To inquire about future internship opportunities at the museum, contact Robin Webb, visitor experience coordinator. Webb, also a DMI graduate, can be reached at rwebb@grammymuseumms.org.
For more information on the DMI, visit http://www.deltastate.edu/college-of-arts-and-sciences/dmi-delta-music-institute-homepage/. To learn more about GRAMMY Museum Mississippi, visit http://www.grammymuseumms.org/.