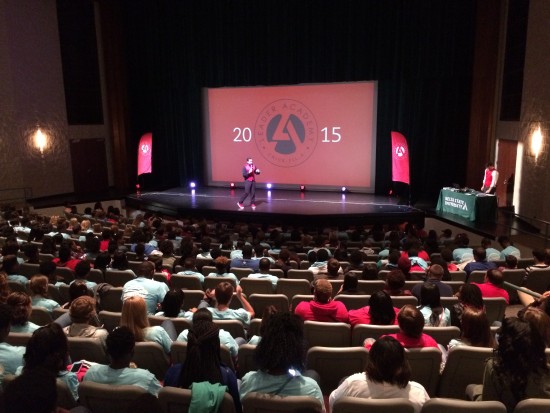 Delta State University hosted the Chick fil A Leader Academy Kickoff event on Oct. 27, a program that brought over 400 Mississippi high school students and administrators to campus.
The event kicked off the year-long academy, a platform that will be held in 18 Mississippi high schools that teaches leadership skills and empowers students to put those skills to action. A major goal of the Leader Academy is to inspire students to remain in school and become leaders within their community.
Students will take part in monthly leadership labs at their schools and complete several service projects in their communities throughout the year.
The kickoff included multiple events and was an integral aspect of the students' initiation into the academy. Students began the day at the Bologna Performing Arts Center where they received detailed information on expectations and goals and heard direct testimonies from schools that have participated in the program.
The assembly was followed by their first Impact Project of the program with Feeding Children Everywhere, packing meals to feed needy children across the state of Mississippi. The project is part of a national effort spanning 325 schools and 10,000 students to feed 1 million children across the United States. The students and administrators came together and packed 101,466 non-perishable meals for children in the state.
Elizabeth Joel, coordinator of Continuing Education at Delta State, has worked closely with Chick fil A over the past few months to plan the event.
"We are very excited about the partnership between Delta State and Chick fil A for this project," said Joel. "It is a wonderful opportunity for our campus to host over 400 students who are future leaders of our community. We want to demonstrate how important community involvement is at Delta State, in hopes that these students will bring their development, compassionate leadership skills back to our campus when they attend college."
In addition to hosting the kickoff event, Delta State departments and student organizations have received an open invitation to attend the leadership labs in several high schools over the next year to serve as mentors.
The Leader Academy is funded completely by Chick fil A branches throughout Mississippi. Lance Read, operator of Chick fil A in Oxford, and a team of nine other state-wide operators are spearheading the project. They will work closely with the 18 high schools registered in the program as they complete their monthly leadership labs and service projects for their communities.