Pictured (left to right): Student John Tierce, Dr. Sharon K. Hamilton, Dr. Adam Johanson and student Stormy Gale.
Two visiting students from the Mississippi School for Mathematics and Science recently wrapped up a two-week research experience at Delta State under the direction of the Department of Chemistry and Physics.
Rising seniors participating in the program were Stormy Gale (Columbus, Mississippi) and John Tierce (Cleveland, Mississippi).
"The Department of Chemistry and Physics is been proud to once again host summer research students from the Mississippi School for Math and Science," said Dr. Joe Bentley, chair of the department. "When students come to Delta State for a summer research experience like this, it's great all the way around. The MSMS students get a taste for doing research in an academic lab, it will help them with their applications to college, and the professor gets to work with highly qualified high school students."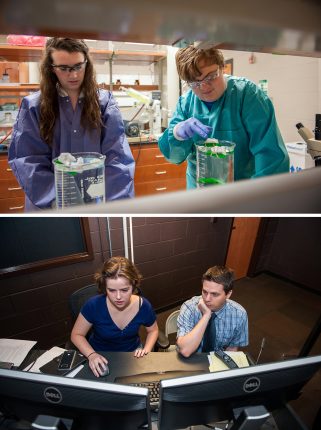 Tierce worked closely with Dr. Sharon K. Hamilton, assistant professor of chemistry.
"John has been working with other students in my lab determining the optimal formulations for drug-loaded natural polymer fibers," said Hamilton. "These fibers can be used for drug delivery and wound healing purposes. John is gaining valuable research experience that will help him as he pursues his college degree next year. It is my hope that our high school chemistry and physics research program can continue to grow in the years to come, especially with such great student recommendations from Dr. Elizabeth Morgan at MSMS."
Tierce also partnered on research with current Delta State students Katie Penton (Southaven, Mississippi), a graduate student in chemistry, and Zachary Kinler (Pascagoula, Mississippi), an undergraduate student.
Gale worked with Dr. Adam Johanson, planetarium director and assistant professor of physics.
"Stormy Gale spent two weeks developing an original planetarium presentation entitled 'History of Astronomy,'" said Johanson. "She not only outlined the show, but wrote over 1,000 lines of computer code to program the planetarium to display videos, pictures and animations to complement the narration."
The presentation of Gale's hard work was given to the public on July 21 in the Wiley Planetarium.
Hamilton's research is supported by the Mississippi IDeA Network of Biomedical Research Excellence, and funded by an Institutional Development Award from the National Institute of General Medical Sciences of the National Institutes of Health under grant number P20GM103476.
Learn more about Delta State's Department of Chemistry and Physics at http://www.deltastate.edu/artsandsciences/chemistry-and-physics.