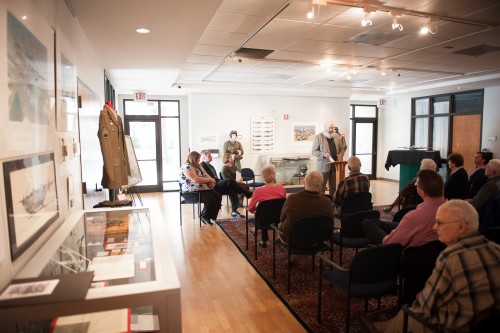 Documenting letters from American war heroes with ties to Delta State is just one of the many things University Archivist Emily Jones has been up to lately.
Jones and graduate assistant Jessica Tubbs spent over 300 hours uploading the entire collection of letters sent to campus during World War II from former student-soldiers.
The compilation is titled the Virginia Thompson collection because most of the letters were addressed to Thompson, who served as the secretary to Delta State President William Kethley.
The assortment was recently featured on the website of the Mississippi Digital Library, www.msdiglib.org, and in its email newsletter. The site is dedicated to the state's rich abundance of cultural and historical resources held by institutions and repositories.
"We have finally finished digitizing and have uploaded the entire Virginia Thompson collection," said Jones. "Jessica created the metadata to make this collection searchable online."
Throughout the process, Tubbs found numerous side stories that remind readers these letters are just moments in the lives of former student-soldiers. An example of Tubbs' archiving is available at: http://deltastatearchives.wordpress.com/2013/09/10/one-man-one-name-one-book/
For the past three years on Veterans Day, volunteers have lent their voices to these letters at a public reading at the Capps Archives & Museum building on campus. Only a mere handful of letters from the enormous collection are read.
Jones said selecting which letters to read is akin to choosing a favorite friend to invite to lunch.
"It's a hard decision. I'm just thrilled that the entire collection of letters are available for family members, alumni and all of our other friends to review at their leisure," said Jones. "As we look to celebrate 90 years at Delta State, remembering and celebrating the gift of freedom secured by those who fought and served in the war effort will be made that much easier now that this collection is online."
Jones added that she hopes the increased public access to the Virginia Thompson collection will encourage others in the Mississippi Delta to deposit their materials with the Delta State University Archives.
For more information, visit www.deltastate.edu/academics/libraries/university-archives-museum.