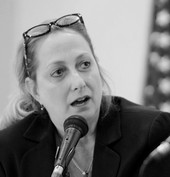 Delta State University is gearing up for the 18th annual Sammy O. Cranford Memorial History Lecture on April 27 at 7 p.m. in Jobe Hall Auditorium.
This year's lecturer is Dr. Alecia Long from Louisiana State University. Her talk is entitled "The Trouble with Tight Pants: New Orleans, Homosexuality and the Search for Conspiracy in the Assassination of JFK." A reception will follow her lecture.
The Cranford Lecture is sponsored by the Delta State Division of Social Sciences and History and is supported by a grant from the Mississippi Humanities Council. This event honors the life of Dr. Sammy Orren Cranford, longtime history professor and archivist at Delta State. This event is free and open to the public.
"The Cranford Lecture is always a great opportunity to host scholars and experts in various historical topics," said Chuck Westmoreland, assistant professor of history at Delta State. "Students, faculty, staff and the community at large will be treated to an outstanding talk by Dr. Alecia Long from LSU."
"Dr. Long will be discussing a topic of great interest that has received much ink and remains so important to our national historical memory," he added. "Her work, though, looks at the JFK assassination from new and exciting angles. This project contributes not only to our understanding of this national tragedy, but also to a growing historical scholarship on the politics of gender and sexuality."
For more information on the Sammy O. Cranford Memorial History Lecture, contact Westmoreland at cwestmoreland@deltastate.edu. There is also a Facebook page for the lecture: https://www.facebook.com/cranfordlecture.
Previous lecturers include: 1998, John Marzalek; 1999, John Ray Skates; 2000, James Cobb; 2001, Martha Swain; 2002, Lawrence Nelson; 2003, Nan Woodruff; 2004, David Sansing; 2005, Charles Reagan Wilson; 2006, James Hollandsworth; 2007, Elbert Hilliard; 2008, Larry Griffin; 2009, William LaForge; 2010, Chris Myers Asch; 2011, Charles Eagles; 2012, George Rable; 2013, Jeannie Whayne; and 2014, Tim Huebner.
Those interested in following news related to the History Department at Delta State are encouraged to like the program's Facebook page at https://www.facebook.com/pages/The-History-Program-at-Delta-State/114699821965257.