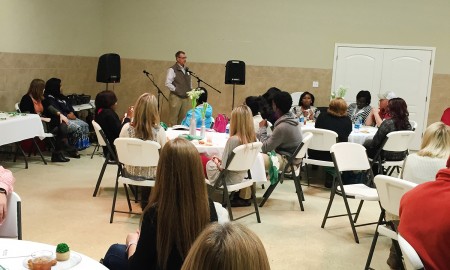 The Office of Admissions recently held a DSU Family Dinner in Grenada for all local students admitted to Delta State for the fall of 2016. Over 30 students attended the event, held at the Mattox Center in Grenada. Alumnus and former baseball player Harry Lott Jr. '81 spoke to the group about his experiences at Delta State. Lott lives in Grenada.
Assistant Alumni Director and Grenada native Jordan Thomas also shared her experiences at Delta State with the group. Thomas was followed by current students Audrianna Johnson, Brennan Barham, Jordan Galtelli and Carrie Lynn Stanford. Tanya McKinney, Addie Herod and Lekeitha Morris, all faculty members, were in attendance to answer students' questions. Derrick Bean, the admission recruiter for the area, led the program. Each student received an exclusive Delta State T-shirt and was entered into a drawing for a scholarship.
Similar events sponsored by the Office of Admissions have been held throughout the state. According to Caitlyn Thompson, director of recruiting, the DSU Family Dinner series was created to support engagement with admitted students.
"Delta State boasts its family-like atmosphere, so to show our family love, we wanted to dine with our future students and give them a taste of the green and white experience," said Thompson.
To stay up to date on the Alumni Association's activities, follow these social media sites: Facebook (Statesmen Graduates), Twitter (@DSU_Alumni), Tumblr (http://www.dsualumni.tumblr.com), LinkedIn (DSU alumni), Instagram (dsualumni) and You Tube (dsualumni1). Save the date for this year's Go Green Weekend (April 2), Pig Pickin' (Sept. 24) and Homecoming (Oct. 15).
To schedule a campus visit or find out more about the application process, visit www.deltastate.edu/admissions.