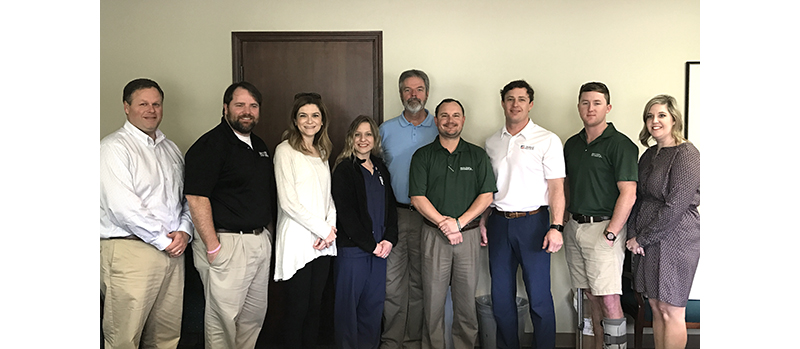 2017 Bolivar County Alumni Crawfish Boil planning committee (left to right): Shane Howell, Shannon Brown, Corley Mullins, Shauna Allen, Jimmy L. Avery, Gary Crews, Bennett Crow, Dillon Vickers and Rebekah Arant.
The Delta State University National Alumni Association is gearing up for the annual Bolivar County Alumni Crawfish Boil. This year's event will be held April 6 at 5:30 p.m. in front of Walter Sillers Coliseum.
Tickets for crawfish are $20 in advance or $25 at the door. BBQ tickets are $8. Free Domino's pizza will be available to children 12 and under with the purchase of an adult ticket. Tickets can be purchased at the Hugh Ellis Walker Alumni-Foundation House, online at www.deltastategiving.org/alumniassociation/bolivarcountycrawfishboil, or at the door.
All alumni, students, faculty, staff and friends of the university are invited to attend.
There will also be a silent auction, a Kids Zone and crawfish races. Southern Tradition Tailgating will be on-site with the new Tailgating Combat Vehicle on display. Live entertainment will be provided by Southern Duality, a two piece acoustic group who covers a variety of music, from Motown to Southern rock, 80s rock and more.
Special guests will include Delta State President William N. LaForge, Athletic Director Ronnie Mayers and Miss Delta State University Hannah Leflore.
Proceeds from tickets, the silent auction and sponsorships benefit the Liza Vaughn Memorial Scholarship Fund, which provides scholarships to incoming Delta State students from Bolivar County. This scholarship was established in 2011 and was named for past assistant director of Alumni Affairs, Liza Vaughn, who lost her battle with cancer in April of 2012. To donate to the scholarship, visit https://www.deltastategiving.org/alumniassociation/lizavaughnmemorialscholarshipfund.
"We look forward to a great evening full of good food, fun and fellowship that will benefit a great cause," said Gary Crews, president of the Bolivar County Chapter. "Our goal of the Bolivar County Chapter is to raise scholarship dollars for incoming Delta State freshmen from Bolivar County." 
2017 Bolivar County Alumni Crawfish Boil planning committee member include: Shane Howell, Shannon Brown, Corley Mullins, Shauna Allen, Jimmy L. Avery, Gary Crews, Bennett Crow, Dillon Vickers and Rebekah Arant.
The event would not be possible without the generosity of sponsors. Corporate Sponsors include: Statesmen Level – Bolivar Medical Center and Polk's Meat Products; Okra Level – Patrick Davis State Farm, Air Evac Lifeteam, and Renasant Bank. This year's Crawfish Boil event sponsors include: Okra Level – YoEddie BBQ, Needle Specialty Products Corporation, Boyle Lumber Company, Domino's, and the American Legion "Bingo Baby" ; Green Level – Auto Mark, Nehi Bottling, Planters Bank, Denton's Dairy, Mississippi Land Bank, The Image Specialist, College Heights Apartments, Security Services, Guaranty Bank, Lenny's Subs, Cleveland State Bank, Delta Home Designs & Flooring Co., McNeer Mini Storage, Robinson Electric, and Cox & Moore, PLLC; White Level – Davis Real Estate, Byrd Service Station, Rogers Entomological Services Inc., Bolivar Commercial, Abraham's, Griffith Real Estate And Rentals, Meador & Crump, Mississippi Grounds, Abe Draper Photography, Ely Weeks – Merigold Cabinets & Carpentry, Todd Walley Plumbing, Craig Verhage – Shelter Insurance, Tentwentyfour, A Polished Image.
Join the Facebook Event page at https://www.facebook.com/events/183381515388241/. To stay up to date on the Alumni Association's activities, follow these social media sites: Facebook (Statesmen Graduates), Twitter (@DSU_Alumni), Tumblr (http://www.dsualumni.tumblr.com), LinkedIn (DSU alumni), Instagram (dsualumni) and You Tube (dsualumni1). Save the date for this year's Pig Pickin' (Oct. 7) and Homecoming (Nov. 11).