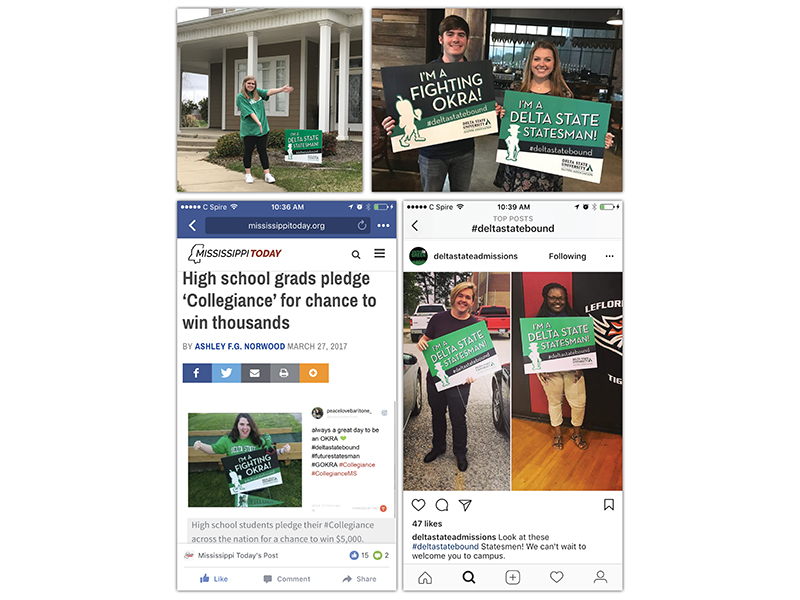 A partnership between the Delta State University National Alumni Association and the Office of Admissions has created a fun initiative for incoming freshmen and transfer students.
The digital campaign created by the National Alumni Association, #deltastatebound, aims to promote awareness of the Delta State family culture to future Statesmen and alumni, as well as promote and engage a positive life-long alumni experience.
For those who have been admitted and have decided to continue their higher education at Delta State, the Alumni Association designed and provided yard sign gifts for the students as a celebratory 'send off' from their current residence. Using the hashtag #deltastatebound, students take to social media to share photos with the sign, letting the world know they're coming to Delta State in the fall.
"The campaign is giving the new students a way to brand their commitment to Delta State. New students are having fun with the signs, which feature the Fighting Okra and Statesman mascots," said Jeffrey Farris, director of Alumni Relations. "We are also excited to compliment Admissions' goal of providing students with an atmosphere that fosters commitment and a sense of belonging."
Melissa Love, assistant director of Alumni Relations, added, "The impact of the campaign through social media outlets has been fantastic. Since our campaign began, the hashtag has been used by admitted students and Delta State officials through Facebook, Instagram and Twitter. These posts have gained thousands of likes and have collectively been shared dozens of times, including being shared by Mississippi Today. Analytics of our own social media accounts report reach totals of several thousand. This doesn't include measurements from individuals who have posted the hashtag."
Although primarily a digital campaign, the yard signs are being seen in neighborhoods across the state, additionally promoting Delta State pride.
Students interested in enrolling at Delta State may apply online at www.deltastate.edu/apply, and campus visits may be scheduled at www.deltastate.edu/visit. Students who have submitted an application may check their status by logging in to their student account any time or by calling 662-846-4020.
For more information on the admissions process or admitted student events, contact the Office of Admissions at 662-846-4020 or email admissions@deltastate.edu.
For more information on the National Alumni Association, call 662-846-4660 or email alumni@deltastate.edu. To stay up to date on the Alumni Association's activities, follow these social media sites: Facebook (Statesmen Graduates), Twitter (@DSU_Alumni), Tumblr (www.dsualumni.tumblr.com), LinkedIn (DSU alumni), Instagram (dsualumni) and You Tube (dsualumni1).
Save the dates: Pig Pickin' (October 7) and Homecoming (November 11).