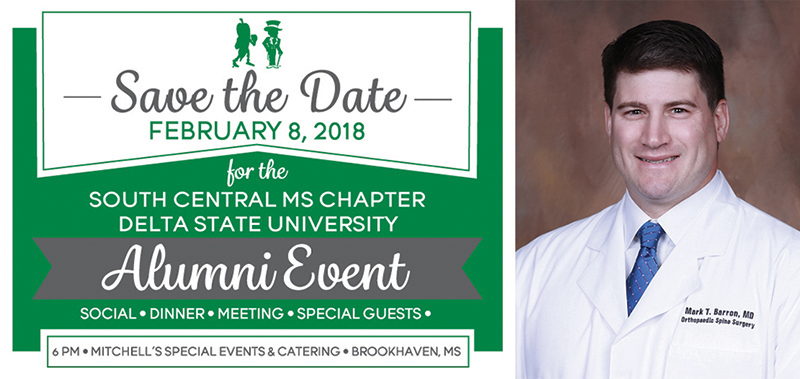 The Delta State University National Alumni Association will host the annual South Central Mississippi Alumni Chapter Meeting in Brookhaven Feb. 8 at 6 p.m. at Mitchell's Special Events and Catering.
Registration and a social will begin at 6 p.m., followed by dinner and the program at 6:30 p.m.
The event will feature Delta State University President William N. LaForge. Other special guests will include representatives from the Office of Admissions and Athletics.
Dr. Mark Barron '04, from Brookhaven, will be recognized as the South Central Mississippi Chapter Alumnus of the Year.
Barron is a board-eligible orthopaedic surgeon who specializes in hip and knee replacements and care for the spine at Kings Daughter Medical Center Sports Medicine Orthopaedic & Spine Clinic. He was born and raised in Laurel and returned to Mississippi to practice after completing his medical training out of state.
Barron enjoys being close to family and living in a place where he can practice both orthopedic surgery and specialty spine care. He became interested in sports and orthopedic medicine after being injured playing high school sports. He received his bachelor's from Delta State in 2004. Additionally, he was a four- year letterman for the Delta State football team. He returns to campus multiple times each year to cheer on his alma mater and tailgate at Statesmen Park for the annual Pig Pickin' festivities.
To view photos from the 2017 South Central Chapter meeting, visit https://www.flickr.com/photos/dsualumni/albums/72157675947386944.
The cost for the meeting is $15 per person. Prospective students are invited to attend as guests of the Alumni Association. To RSVP, call 662-846-4660 or visit www.deltastategiving.org/alumniassociation/southcentralevent.
To stay up to date on the Alumni Association's activities, follow these social media sites: Facebook (Statesmen Graduates), Twitter (@DSU_Alumni), LinkedIn (DSU alumni), Instagram (dsualumni) and You Tube (dsualumni1). Save the date for this year's Go Green Weekend (April 27-28), Pig Pickin' (Sept. 21-22) and Homecoming (Nov. 10).