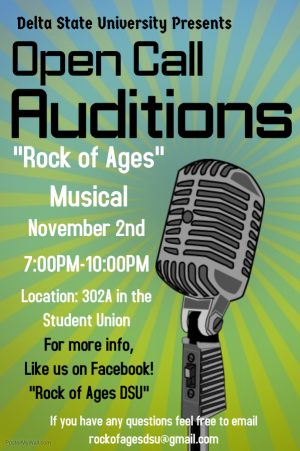 Open call auditions for Delta State's February show, "Rock of Ages," will take place in room 302A located in the Student Union on Nov. 2 from 7-10 p.m.
Director Charly Abraham aims to recreate a stark, Hollywood feel with a full band and a cast that can demonstrate what rock theater is all about.
Auditions will consist of performing one of the four songs listed below and a cold reading from the script. All parts require singing and stage movement. Headshots are requested but not required.
Tracks will be provided to the following audition songs (pick one):
Don't Stop Believin' – Journey
I Want to Know What Love Is – Foreigner
Hit Me with Your Best Shot – Pat Benatar
I Hate Myself for Loving You – Joan Jett & the Blackhearts
Roles are open to everyone between the ages 18-60. Callbacks, if necessary, will be announced on Nov. 4. Character descriptions can be found at http://www.samuelfrench.com/p/35180/rock-of-ages. Performances will run Feb. 20-22, 2017 in Jobe Hall Auditorium on Delta State's campus.
For more information, contact Carrie Lynn Stanford at rockofagesdsu@gmail.com.