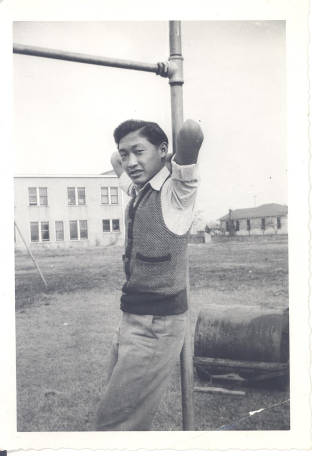 CLEVELAND, Miss. – Building one's legacy is an inexact science. It begins with the people who shape our childhood and extends through the life experiences that determine our ultimate path. For Pershing Wong, one of America's preeminent master architects, it all began in the Chinese Mission School here in Cleveland. Wong, who passed away on July 2 at the age of 90, was born in Rosedale in 1926.
His educational pursuits proved to be as varied as his professional experiences. Educated as a youth in the Chinese Mission School, he would study in New York, Nanjing (China), and Tennessee. He served his country in the United States Army as a drill sergeant, and used the G.I. Bill to earn bachelor's degrees in architecture and engineering at the Georgia Institute of Technology in Atlanta.
Receiving an appointment at Fountainebleau (France), Wong's intellect led to his receiving the Premier Prix Architecture and ultimately his long-lasting relationship with renowned architect I.M. Pei. His career flourished at Pei & Partners, where he collaborated on some of the world's most distinguished buildings.
His stunning architectural designs light up the skylines of major cities in America, Canada and Asia. His design credits include the National Bank/Mile High Center (Denver, CO), Royal Bank of Canada/Place Ville Marie (Montreal, CN), One and Two Dallas Centre (Dallas, TX), One Galleria Tower (Oklahoma City, OK), ARCO Tower (Dallas, TX), Texas Commerce Tower (Houston, TX), The Gateway (Singapore), Bank of China (Hong Kong) and 499 Park Tower (New York, NY).
Wong was committed to teaching, serving as a visiting instructor at Georgia Tech and mentoring young architects in the field. After his remarkable career, Wong returned to those childhood days at the Chinese Mission School of playing baseball, kick the can, and swimming in the lily pond. Taking those experiences and using them to mold the lives of young people as he coached swimming and diving for many years in Westchester County, New York.
With all of his experiences, Wong never forgot his beginnings here in Cleveland. He and his brother, Kellogg, donated family photographs and memorabilia to the Mississippi Delta Chinese Heritage Museum at Delta State University, ensuring that their legacy would be preserved. Visit their collection here.(http://collections.msdiglib.org/cdm/search/collection/dsu/searchterm/M374%20Kellog%20Wong%20Collection./mode/exact/conn/or/order/nosort)
"Pershing Wong's life is a brilliant illustration of what is possible," said Gilroy Chow, President of MDCHM Board. "His desire to learn and his drive to succeed led to some of the world's most beautiful architecture. Despite all of his travels, awards and prestige, Pershing never forgot his roots – roots cultivated and nourished by the caring teachers at the Chinese Mission School in Cleveland."