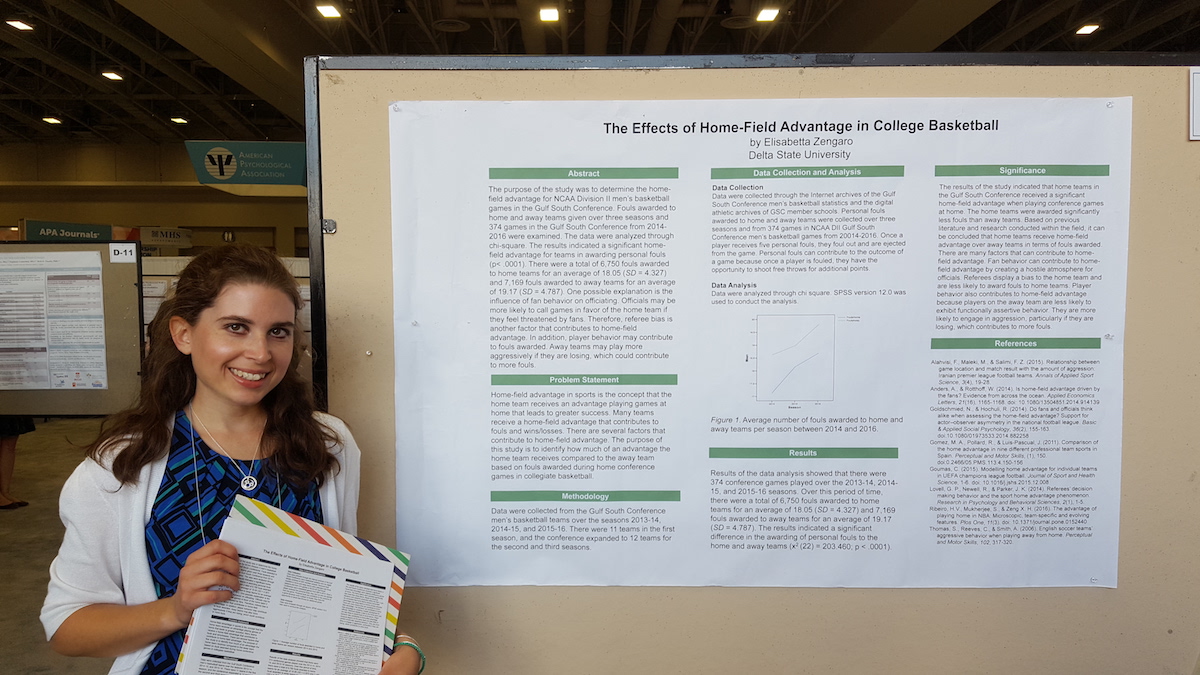 Delta State University's Division of Counselor Education and Psychology was well represented at the 125th American Psychological Association Convention in Washington, D.C.
Dr. Sally Zengaro, assistant professor and chair of the Division of Counselor Education and Psychology, and Dr. Jonathan Westfall, assistant professor of psychology, led a symposium on "Connecting with Students through the Use of One Digital Platform in Psychology Classes." The presentation focused on using electronic resources for effective teaching in psychology.
"I am thrilled that Delta State was represented at one of the premier conferences in psychology," Zengaro said. "Dr. Westfall and I presented a teaching symposium based on work in the psychology department on improving student learning. It was also great to have one of DSU's master's students present research she had performed on sport psychology. The opportunity to learn from and share with other psychologists at APA is a fantastic educational and professional development experience."
"APA is the largest organization of psychologists in the United States and to be able to share my work on Open Educational Resources (OER) with my peers within APA and the Society for the Teaching of Psychology (APA Division 2) was an awesome experience," Westfall said. "Based on the feedback I've received, the work I've done at Delta State will benefit hundreds of students throughout the United States. And the ability to network with leaders in the field will enrich my classes for years to come."
Graduate student Elisabetta Zengaro presented her poster, "The Effects of Home-Field Advantage in College Basketball," as part of the sport psychology division at APA. Zengaro's poster explored the concept of referee bias and home-field advantage within the Gulf South Conference in NCAA DII.
"It was a wonderful experience to share my findings with professionals and peers within the field of sport psychology," Zengaro said. "My results indicated home teams do in fact receive an advantage over away teams in terms of fouls awarded, and it was great to further that discussion at APA. With APA being such a competitive conference, it was an honor to represent Delta State as a student presenter."
For more information about the psychology department at DSU, contact Dr. Sally Zengaro at (662) 846-4357 or szengaro@deltastate.edu.