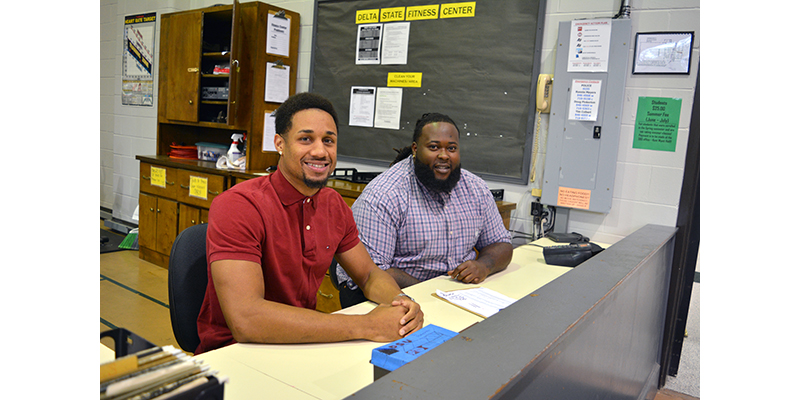 HPER interns James Kilpatrick and D.Q. Reynolds
As student-athletes, James Kilpatrick and D.Q. Reynolds are no strangers to putting in hard work. Balancing studies with athletic competition can be a challenge, just as balancing exercise with a full-time job.
Staying active is important because physical activity has many health benefits, such as reducing the risk of cancer, diabetes and heart disease. But many adults do not maintain an active lifestyle. According to the CDC's Mississippi State Nutrition, Physical Activity and Obesity Profile, only 37.4 percent of adults in Mississippi achieve the recommended 150 minutes of moderate physical activity per week.
You don't need to be a professional athlete to take advantage of the services health and fitness centers offer, but the machines and workout classes can be daunting to people with no prior knowledge in exercise science.
As senior HPER majors at Delta State, part of Kilpatrick's and Reynolds' job is to help community members overcome the hurdle preventing them from engaging in physical activity. Both students are completing their summer internship in exercise science at the Delta State University Fitness Center located in Wyatt Gymnasium.
Kilpatrick and Reynolds are responsible for helping clients develop exercise programs. Their clients are mainly adults, and they develop cardiovascular and resistance programs for their clients, teaching them various weight-lifting and cardiovascular exercises to maintain good fitness.
"When we started, we were teaming up, but we have our own clients now," Reynolds said.
"I try to help them be the best they can be," Kilpatrick added.
And their efforts haven't gone unnoticed. Dr. John Alvarez, associate professor of exercise science at Delta State, has been supervising their internships and is proud they are taking the initiative to give back to the community.
"We in the College of Education and Human Sciences' Division of HPER are pleased that our students are able to have a positive experience and give and back to the community," Alvarez said.
For more information about the exercise science program at Delta State, contact Alvarez at 662-846-4564 or jalvarez@deltastate.edu.