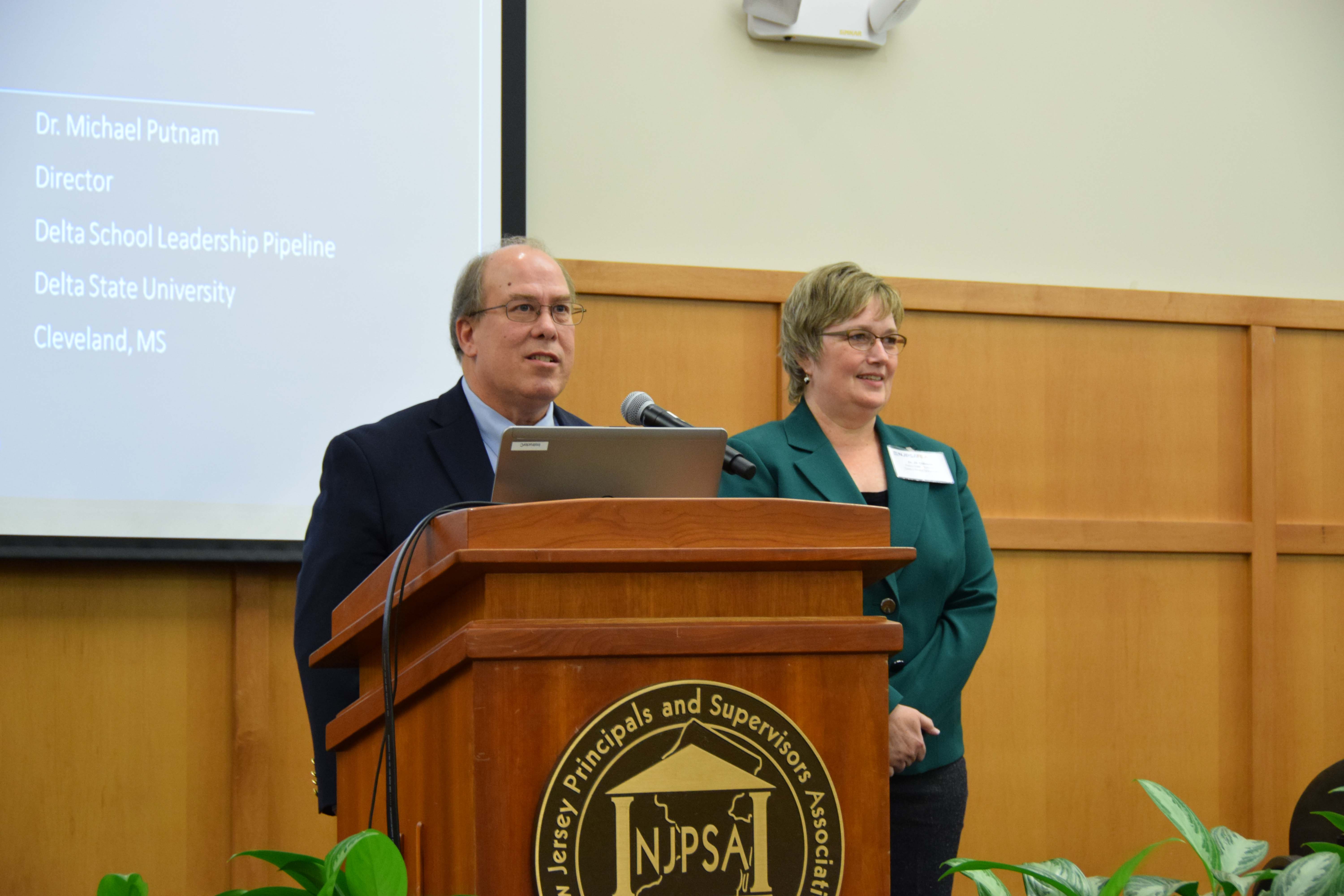 Delta State faculty Dr. Michael Putnam and Dr. Jill Cabrera
Faculty from the Delta School Leadership Pipeline (DSLP) Initiative at Delta State recently traveled to New Jersey to present a session on the program's education leadership preparation model.
Dr. Michael Putnam, Director of the DSLP Initiative, and Dr. Jill Cabrera, associate professor of Educational Leadership, presented the session on the DSLP model at the Equity, Access, Leadership School Leadership Program Project Directors' Meeting held in Monroe Township, New Jersey on Nov. 9.
"This meeting afforded us the opportunity to highlight the successful and unique features of our DSU educational leadership preparation model while learning about various components of alternative program models from across the United States," said Cabrera.
The DSLP is housed in the DSU College of Education and Human Sciences and is funded through a grant from the U.S. Department of Education. The five-year grant was awarded in 2012 and is now in its third cohort. The program continues to build upon an innovative, nationally recognized model for preparing school leaders. Candidates complete intensive school leadership rotations via a sabbatical program funded through the Mississippi Department of Education.
"Experiencing full-time internships at schools other than their home sites coupled with face to face class held each week on the DSU campus provides one of the richest learning environments possible," Putnam said. "We are extremely proud of the accomplishments of our students, and the opportunity we have to provide such a data-intensive, research-based, practical hands-on program."
Division Chair Dr. Tom Brady said, "This is yet another example of a powerful experience our tremendous faculty can bring back to our students.  As with past experiences, Drs. Cabrera and Putnam will train our DSLP students in what they learned, and through these students have impact on the schools throughout The Delta."
Dr. Leslie Griffin, Dean of the College of Education and Human Sciences, said the DSLP model helps to build and sustain educational leadership in the Delta.
"Drs. Putnam and Cabrera are a strong leadership team, providing guidance for future school leaders and program development that is cutting edge. The DSLP model utilizes a coaching model and team-building at the district level to build and sustain leadership in Delta area schools. We are appreciative of the support and vision that has been provided at each of the institutional, state, and national levels to sustain this signature program through the years," Griffin said.