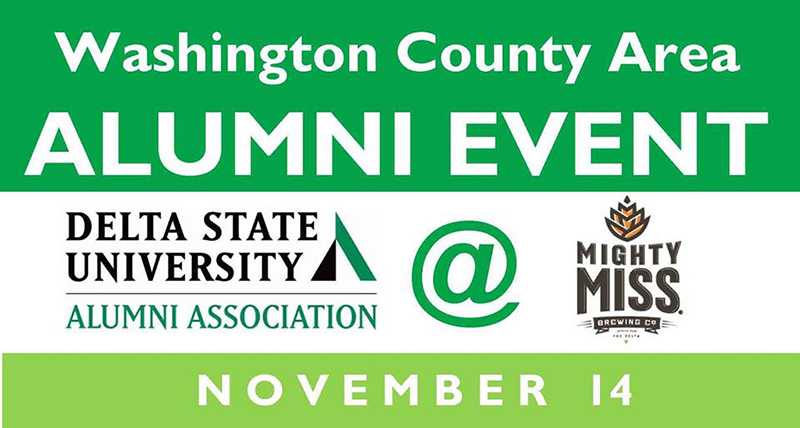 The Delta State University National Alumni Association will be traveling to Greenville for the Greater Washington County Area Alumni Event on Nov. 14, at 6 p.m.
The event will be held at the Delta's only taproom, Mighty Miss Brewing Company, in downtown Greenville.
Speakers for the event include Delta State President William N. LaForge and Delta State's National Alumni Director Jeffrey Farris. Additional staff, faculty and special guests from campus will also be in attendance. Entertainment will be provided by the Delta Music Institute's student band, BKZ.
"We are excited to once again get together with our fellow Statesmen and friends of the university," said Parker Lipscomb, Washington County Alumni Chapter volunteer. "The local alumni committee has reached out to local businesses, friends and alumni to make this event possible, and we are very grateful for them. The event is going to be a fun way to reconnect with friends and has also given us an opportunity to award some Washington County students with scholarships to Delta State."
Guests can participate in brewery tours and a silent auction during the event, with all proceeds benefitting the Washington County Area scholarship fund. Alumni and friends will enjoy appetizers from the Cajun Shotgun House while sampling craft beers.
The Alumni Association is still accepting sponsorships for the event. Call 662-846-3780 for more information about sponsorship opportunities. Visit http://bit.ly/2gDVZjx to pre-register online. Walk-ins will be welcome the night of the event. To learn more about the Mighty Miss Brewing Company, visit https://www.mightymissbeer.com/.
Save the dates for upcoming alumni events: Homecoming (Nov. 11.), Rolling Fork area event (Onward Store) on Nov. 7,  and Brookhaven (Feb. 8, 2018).
For more information on the DSU National Alumni Association, call 662-846-4660 or email alumni@deltastate.edu. To stay up to date with DSUNAA activities, follow these social media sites: Facebook (Statesmen Graduates), Twitter (@DSU_Alumni), LinkedIn (DSU alumni), Instagram (dsualumni) and You Tube (dsualumni1).