South of Gold Mountain
February 21, 2015 @ 2:00 pm

-

8:00 pm
Event Navigation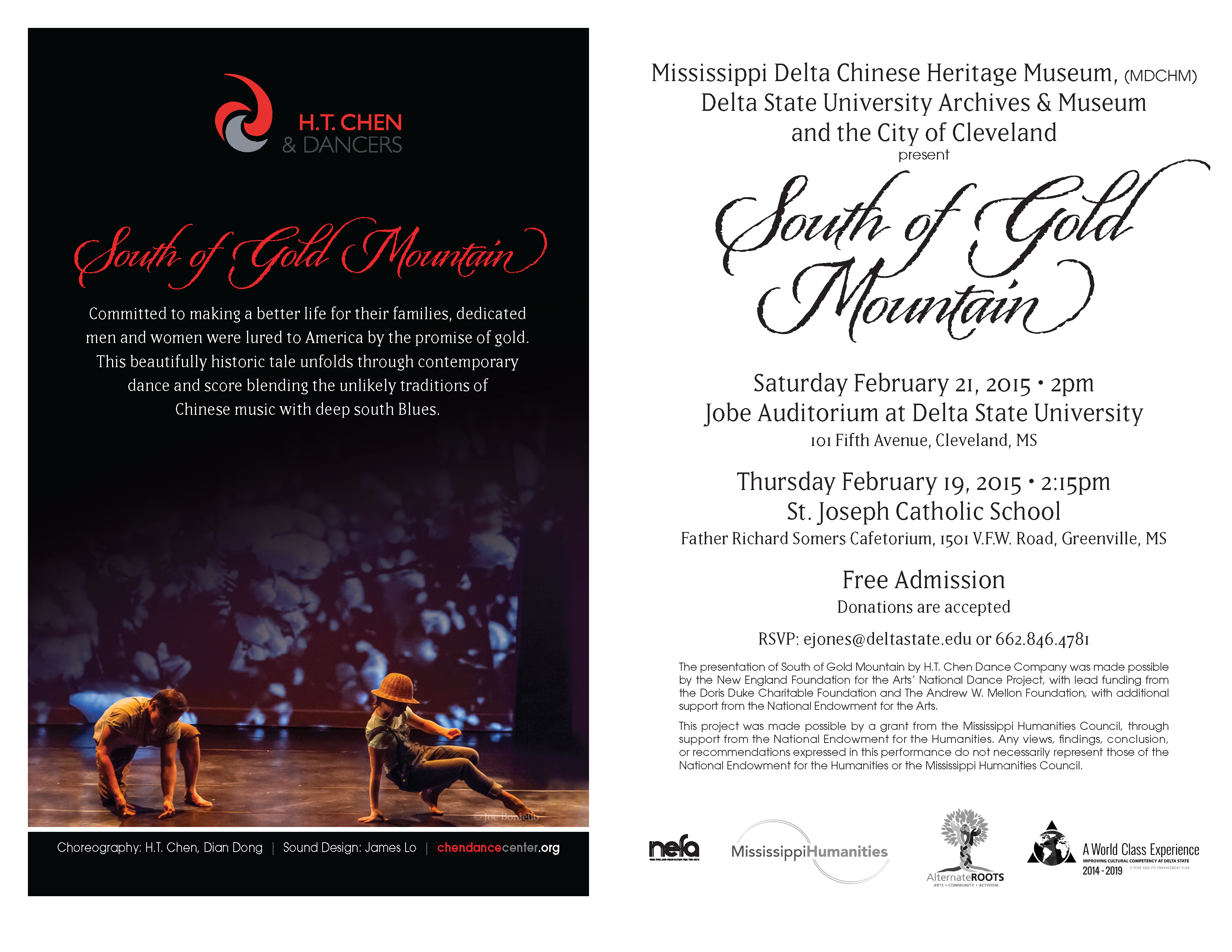 Presented by Archives & museum, MDCHM, NEFA and the MS Humanities Council
To ring in the lunar New Year, the Mississippi Delta Chinese Heritage Museum MDCHM will be presenting NYC dance company, H.T. Chen & Dancers at Delta State University, Cleveland, MS.
A grant from the NEFA National Dance Touring program is providing partial support to bring the company in February 16 -22, 2015. On Saturday, February 21st at 2:00 pm the world premiere of South of Gold Mountain will be presented at Jobe Auditorium. (Before the performance, there will be guest speakers to introduce the work, and afterwards a meet the artist reception)
The production draws from the rich history of those who settled in the southern states before WWII. Acclaimed modern dance choreographer, H.T. Chen has created a body of work that gives poetic voice to Asians in America. He and Associate Director, Dian Dong traveled throughout the southern states to conduct oral interviews and gather material to develop the new work.
South of Gold Mountain incorporates dance, oral histories, traditional Chinese music, a contemporary sound score by James Lo, and a multi-generational cast of performers from NYC and MS. Completing the cast will be community members to play the roles of the children and elders.
Throughout the Chinese New Year week there will be open rehearsals and workshops in traditional Chinese Ribbon Dance, Calligraphy, contemporary dance, and fitness. Families are encouraged to participate in workshops for fun, health and good luck for the New Year. And while at Delta State, please visit the wonderful Chinese Heritage Museum on DSU campus!
The company will also travel to Greenville, MS where one of the lead performers, Lisa Chow, was raised. There, they will perform for young audiences and teach dance workshops.
The 2015 Year of the Sheep is an inspiring period. The Sheep's gentle and calm nature make it among the animals that people like the most. Since ancient times, people have learned to use its fleece to make writing brushes and clothing to keep warm. People born in the year of sheep are tender, polite, filial, clever, and kind-hearted. They have special sensitivity to art and beauty, faith in religion, a special fondness for quiet living, and are considered wise, gentle and compassionate.