Delta State Honors Hilpert with Retirement Reception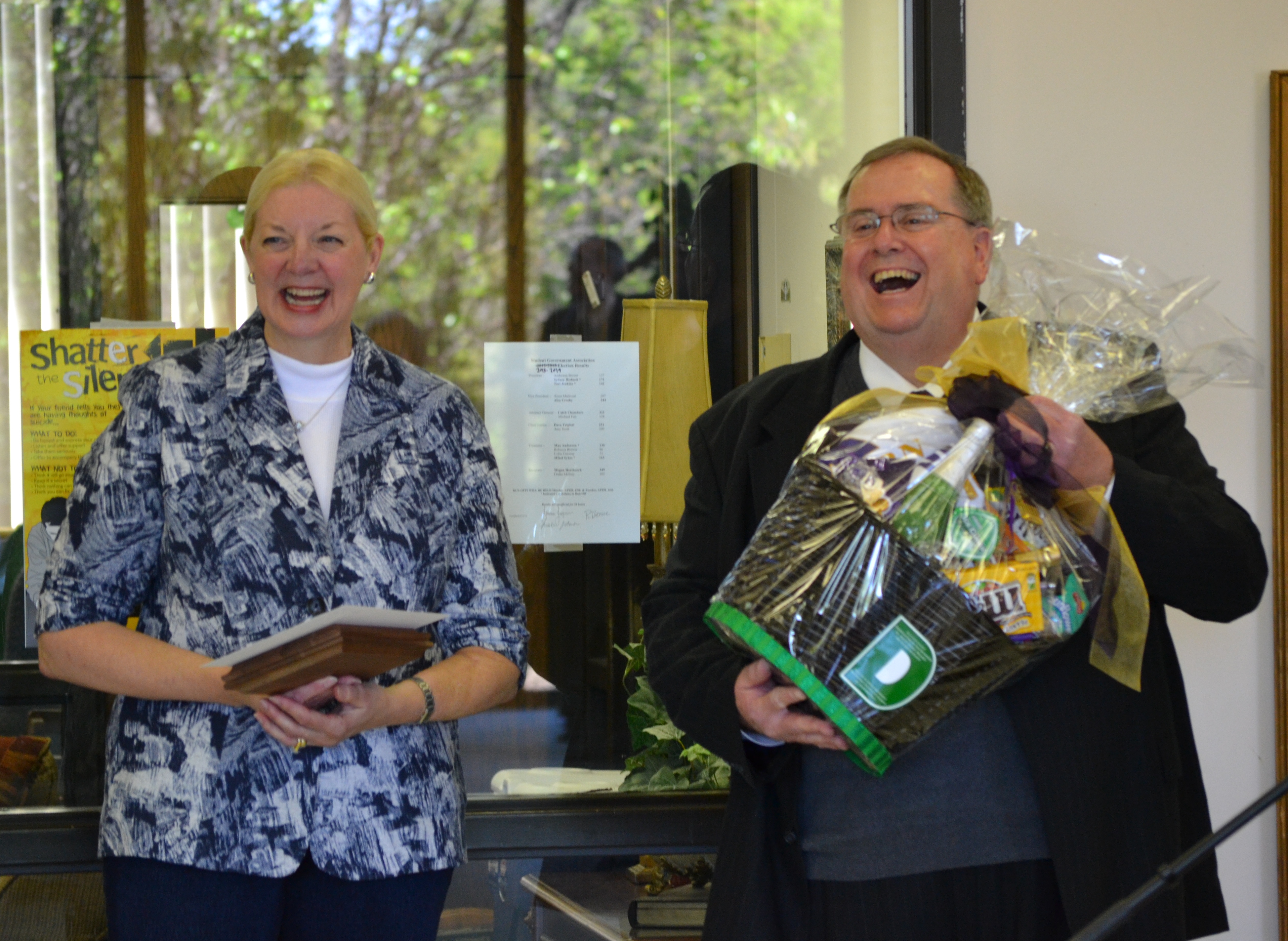 The Delta State University family gathered in the H. L. Nowell Union on Friday, April 12 for a reception honoring President John M. Hilpert and First Lady Pat Hilpert as the president steps down following a decade of exceptional leadership.
Hilpert announced his plans to retire last May stating, "Every day at Delta State I have recognized my privilege to serve as president of one of the finest regional universities in the nation. The institution is a sound organization built on a tradition of service." Originally announcing that he would retire last December, Hilpert graciously agreed to serve until his successor was in place.
Vice President for Student Affairs, Dr. Wayne Blansett, welcomed the large crowd and congratulated Hilpert on a well-earned retirement. "We in the university community are so very thankful for your years of impeccable service, and I want say personally what a pleasure it has been to serve with you over the years."

Blansett then read a letter from incoming president William "Bill" LaForge congratulating Hilpert on his 10 years of outstanding service. "I regret that I cannot be there to salute you in person, but I thank you sincerely for your dedication to Delta State over the years and for your strong command of the university we all love so much. Your amazing career in higher education has inured to the benefit of all of us who claim the Green and White as our own. Your record of achievement and commitment to higher education, as evidenced by your stellar and durable career in many high positions of leadership, is enviable by any measurement. Most importantly, you have touched and influenced the lives of so many students and colleagues over the years in such meaningful ways," said LaForge. "I am especially grateful to you on both a personal and professional level for your many courtesies and your wise counsel to your successor. I trust you will allow me to continue benefiting from the wisdom and experience of President Emeritus Hilpert! Thank you for all you have done for Delta State University!"

The President and First Lady were presented with gifts from various university departments and organizations, as well as from local and regional organizations and sister institutions.

Gracious in his remarks, Hilpert thanked those in attendance, and offered his gratitude to the Delta State University family. "I cannot express how grateful Pat and I are to you all for the last 10 years," he said. "Delta State is the fifth institution that we have served. It has been our longest stop and certainly one that we have found rich and rewarding in all aspects. We are immensely grateful to all of you and it has been an honor to have been a part of this university and community."

Hilpert was named the university's seventh president September 1, 2003 after six successful years as president of Northern State University in Aberdeen, South Dakota. During his 35-year career in higher education administration, he has also served as executive vice president and acting president of the University of South Dakota and as a vice president of Thiel College in Pennsylvania and executive assistant to the president of Suomi College (now Finlandia University) in Michigan.

As he steps down, Hilpert holds the distinction of having been the longest serving institutional executive officer among the eight current presidents of Mississippi's public universities.

In retirement, the Hilperts will split their time between homes in the Delta and in South Dakota. "Retirement opens the door to new opportunities for Pat and me," said Hilpert. "We are looking forward to new adventures, as well as more time with our children and grandchildren."