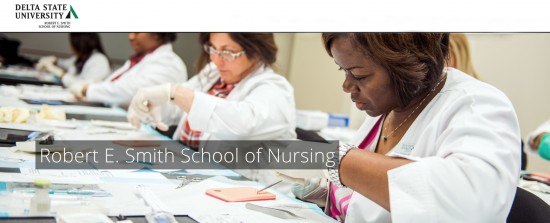 AffordableSchools.net (http://affordableschools.net) — a college rankings site centering on unique and affordable academic programs — recently announced Delta State as one of the 25 Most Affordable Online Master's of Nursing Degrees.
Delta State came in at No. 4 in the national ranking.
"This new rankings article provides a broader look at the most affordable colleges offering online master's degrees in registered nursing in general, to give current nurses an overview of some of the types of advanced-practice registered nurse studies and occupations that are available," said the article's lead researcher, Raj Dash.
College rankings for this article were compiled with data from National Center for Education Statistics, a bureau of the Dept. of Education (http://nces.ed.gov/).
AffordableSchools.net first queried for graduate institutions that grant degrees in the NCES categories "Registered Nursing/Registered Nurse" and "Registered Nursing, Nursing Administration, Nursing Research and Clinical Nursing, Other" on a distance basis.
"In today's higher education landscape, affordability has become a hot-button issue, so it is outstanding to be recognized in such a manner," said Dr. Glenn F. Boyce, commissioner of Higher Education in Mississippi.
To view the entire Top 25 list, visit http://www.prnewswire.com/news-releases/affordableschoolsnet-releases-its-affordability-ranking-of-online-masters-level-nursing-degrees-300324729.html.