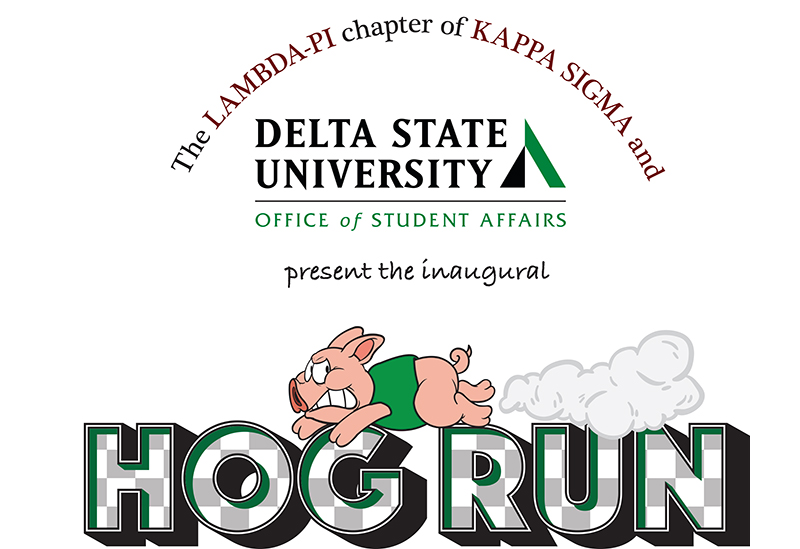 Kappa Sigma Fraternity and the Delta State Office of Student Affairs will host the 2017 Hog Run 5K on Oct. 7 during Pig Pickin' weekend at Delta State University.
The event will raise money to help veterans' organizations through Kappa Sigma's national philanthropy, the Military Heroes Campaign. The race begins at 8:30 a.m. at the gazebo in downtown Cleveland. The run is slated to be an annual event.
Participating businesses include: Q102 WIQQ, KIX92.1 WKXY, Baxter, North Sunflower Medical Center, Planters Bank, Barnes Paper & Supply, Advance Physical Therapy, and Andy's Fifth Ave. Quick Stop.
"These sponsors have been generous in their assistance, and through their sponsorships we have been able to cover all expenses associated with the event, which will allow all proceeds from registration and individual donations to the Military Heroes Campaign," said Christopher Johnson, assistant alumni advisor. "Some of the organizations funded through the Military Heroes Campaign include The SEAL Legacy Foundation, Veterans Moving Forward, Healing Our Heroes Homes and Veterans Success Resources Group."
The day begins with a remote radio broadcast from the event, after which the run begins at 8:30 a.m. From there, participants are invited to the annual Pig Pickin' festivities at Statesmen Park. Pig Pickin' will be celebrating its 32nd year and its first year as a Memphis Barbecue Network sanctioned competition.
Individuals can register at the RacesOnline website at https://racesonline.com/events/hog-run. The cost of registration is $25 per person. Individuals can also make donations in any amount at the RacesOnline website, and will be accepted through Veterans Day on Nov. 11, which is also Delta State's Homecoming weekend.
In an effort to increase participation and add a little fun to the campaign, registrants and donors are encouraged to make their registration or donation as part of a team. Participants will notice that all Greek organizations on campus have a team, as well as other student organizations. Local businesses and organizations are encouraged to create their own teams as well.
The course for the race will follow the walking and biking trail ways throughout downtown Cleveland.
"The Kappa Sigma Fraternity would again like to take the time to celebrate all the amazing efforts that have been put into making the first Hog Run to Support Military Heroes a reality. Our incredible sponsors have done so much to help us bring this cause to life, and we are extremely grateful for everyone who has pushed to help us spread the word and make this event possible," said Turner Davis, event director.