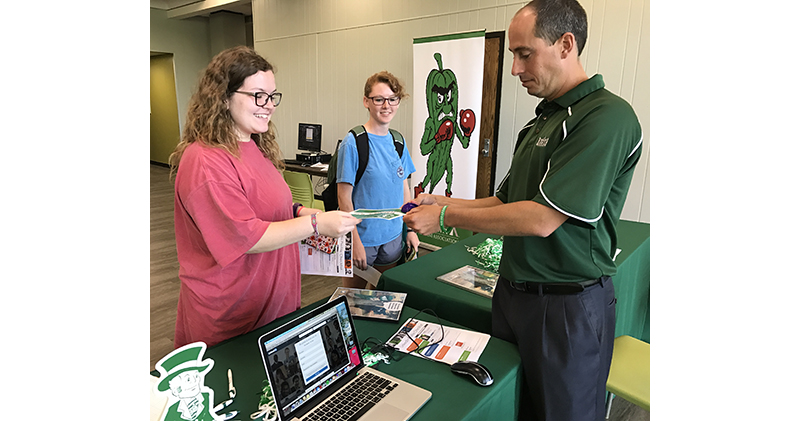 The Delta State University National Alumni Association and Delta State Career Services recently partnered to "Passport To Success 2017." The program successfully prepped Delta State students to enter their careers confidently, while maintaining a strong professional social media presence.
Students were given assistance with creating professional LinkedIn profiles, were offered headshots for their LinkedIn profiles and resumes, received résumé assistance, and learned about best practices for searching for jobs and internships. Additionally, students were given guidance on professional attire, were able to register for graduation regalia and complete the senior exit survey for the Department of Institutional Research.
"The National Alumni Association is in the business to develop partnerships," said Jeffrey Farris, director of Alumni. "Through the leadership of our National Alumni Association Board of Directors, we have established Passport to Success and are excited to partner with Career Services at Delta State. We will look forward to the event year after year as we aid our students in developing professional LinkedIn profiles and getting guidance as they prepare to begin their careers."
The inaugural event was open to all juniors, seniors and graduate students. Multiple stations and staff were on site to assist more than 40 students who took advantage of the programming.
"With the growing number of users on the professional social media platform LinkedIn, we are seeing more and more students gain exposure and leads to career opportunities," said Davlon Miller, director of Career Services. "These days, a foot in the door may actually start online. It is important for these students to recognize this trend."
As a special incentive, students who participated in each station were also entered in a drawing for special prizes. Student Johnna Ladd's name was drawn as the winner of a Yeti Hopper cooler.
Following the event, students who met specific criteria on their LinkedIn pages were eligible for one of two $500 scholarships to Delta State. The scholarship winners were social work major Kayla Gary and outdoor recreation major Heather Wilson.
"This successful event enabled alumni staff to enhance their relationship with upperclassmen, developing life-long relationships with the future alumni," said Sayward Fortner, National Delta State University Alumni president. "Students also gained the ability to engage with other alumni who have LinkedIn profiles."