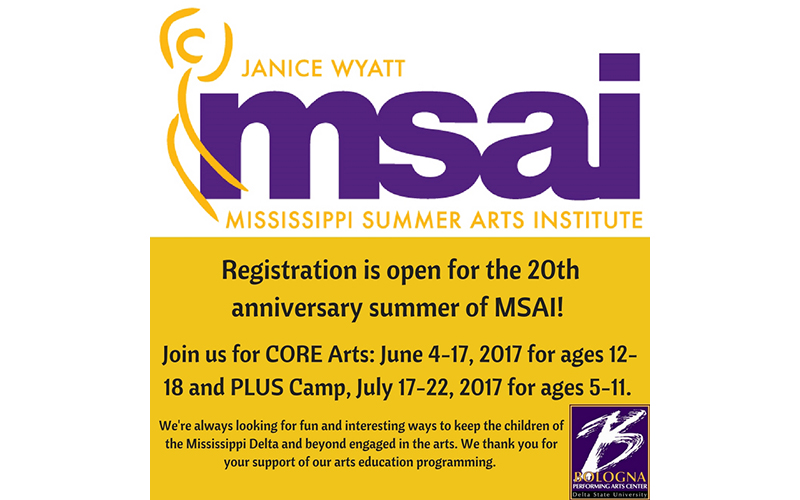 The 2017 Janice Wyatt Mississippi Summer Arts Institute at the Bologna Performing Arts Center is gearing up for its annual summer programs.
This year marks its 20th summer of operation, impacting the lives of countless emerging artists by providing a unique opportunity for students to gain broad exposure in all artistic disciplines.
Core Arts, occurring June 4-17, is an exciting two-week arts intensive residential camp for ages 12-18. Core Arts provides a positive and supportive environment for students who wish to gain exposure to the arts or aim to further develop their creative abilities. Students stay on the Delta State campus, take classes in a wide range of art forms with highly qualified professional teaching artists during the day, and participate in fun activities at night. Courses are offered in dance, digital arts, music, theater and visual arts. Core Arts culminates with a visual arts exhibition June 16, as well as a final performance which demonstrates the talents of the performing arts campers on June 17. An optional non-residential track is also available for campers ages 12-13.
Young artists ages 5-11 are invited to attend PLUS Camp on July 17-22, a high-energy, performance-oriented day camp where students take classes and prepare for their final performance — a choreographed medley of songs that revolve around a central theme. MSAI is excited to welcome back beloved faculty from previous summers and newer additions like Chuck Galey, a Jackson illustrator and an accredited Mississippi Arts Commission teaching artist.
Applications are being accepted now and are available at the Bologna Performing Arts Center or for download online: bolognapac.com/education/mississippi-summer-arts-institute. For more information, stop by the BPAC, or call Cade Holder, Arts Education coordinator, at 662-846-4844.