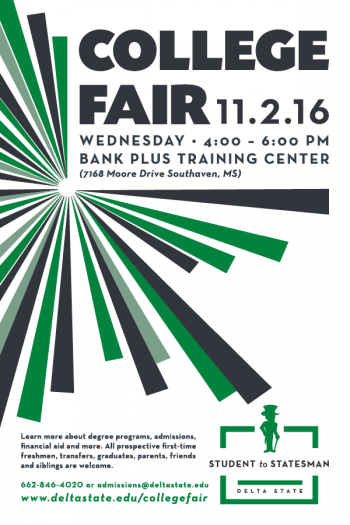 The next stop on the Student to Statesman tour will be at the Bank Plus Training Center in Southaven on Nov. 2 from 4-6 p.m.
All North Mississippi and greater Memphis area students, parents, counselors, alumni and friends are invited to the college fair that will showcase academic departments and student services offices.
President William N. LaForge, campus representatives and current students will be on hand to talk one-on-one about the university's undergraduate and graduate degree programs, financial aid, scholarships, campus life and more.
The goal behind the on-site college fair is convenience and accessibility for those interested in Delta State. Admissions recruiter Katie Shoemaker works with students in the area and is eager to introduce them to the Delta State family.
"I am excited that students will have the opportunity to meet President LaForge and our academic representatives," she said. "It will leave a lasting impression on juniors and seniors looking for a college home."
In addition to academic departments and admissions representatives, the Office of Financial Aid, Office of Student Life and the Student Success Center will be on site.
For more information, visit www.deltastate.edu/collegefair, call 662-846-4020, or email kshoemaker@deltastate.edu.