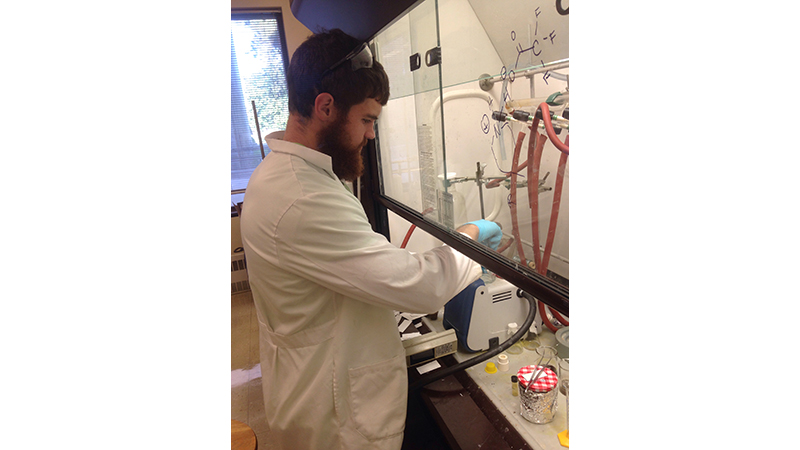 Pain is something we have come to accept as part of life. We even give pain its own motto — no pain, no gain. While we may not be able to eliminate pain, we can develop methods to cope with it, and Delta State student Tyler Daniels is researching the effects of a possible pain reliever.
Daniels, a senior chemistry and biology major from Hattiesburg, is working on a medical chemistry research project at the University of Montana's Center for Structural and Functional Neuroscience. For his research project, he is working on the synthesis of a Cytochrome P450 inhibitor with potential as a natural pain reliever, as well as the synthesis of a T-type calcium channel blocker with potential as a neuropathy-related pain reliever.
"I began the project in mid-June," Daniels said. "My responsibilities include reviewing previously published research, the synthesis of a series of compounds and the purification of these compounds. The end goal is that the final products will be sent off for both in-vitro and in-vivo testing as potential pain relievers."
Daniels began searching for internships in the spring and came across the project in Montana online.
"Because I had no prior research experience, I thought working on a project in my field of study with a potential medical application would be a great learning opportunity," Daniels said. "This research experience has allowed me to expand my knowledge of the medicinal chemistry field and has given me a lot of insight on graduate study as a whole."
Dr. Sharon Hamilton, assistant professor of chemistry at Delta State, has been keeping up with Daniels' progress over the summer. She knew he had applied to several summer research experiences for undergraduate programs and is thrilled for the opportunity Daniels' received with the University of Montana.
"We have corresponded this summer, and he's expressed how much he enjoys his research project," Hamilton said. "Based on these experiences, I feel confident that Tyler will excel working in my lab this fall on a new synthesis project. I'm very happy Tyler earned this opportunity. He is a wonderful student and very hardworking, effectively balancing football and chemistry courses, as well as his obligations to the Rural Physicians Program and spearheading the formation of a chapter of the Mississippi Rural Health Association on campus."
For more information about the chemistry program at Delta State, contact Hamilton at 662-846-4479 or shamilton@deltastate.edu.