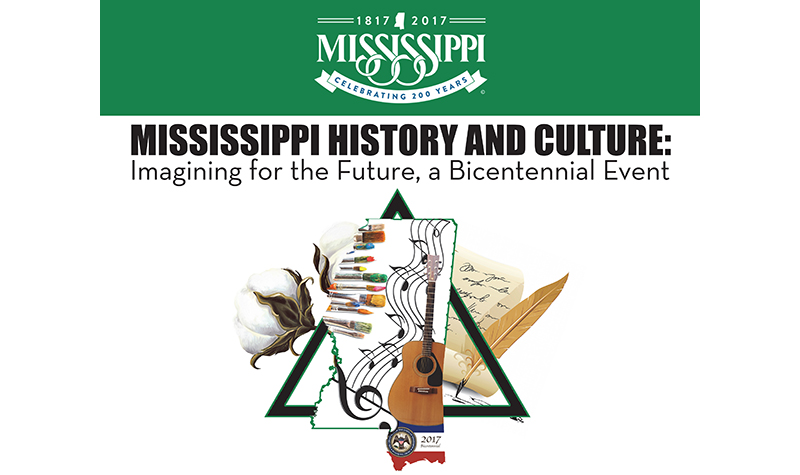 In celebration of the State of Mississippi's bicentennial anniversary, a special series of events involving several Delta State University departments has been planned for the first week of October.
Programming will include:
A juried art show from Oct. 4 until the end of the month at the Bologna Performing Arts Center on the DSU campus.
A historical lecture on Indian Mounds of the Delta on Oct. 4 at 6 p.m. at the BPAC.
An evening celebrating diversity sponsored by members of the DSU LGBTQ community on Oct. 5 at 6 p.m. in front of the Roberts-LaForge Library.
An evening "poetry slam" featuring student submissions on Oct. 5 at 8 p.m. at Mississippi Grounds Coffee Shop.
The celebration will culminate with an evening gala concert event on Friday, Oct. 6, at 7:30 p.m. in the Bologna Performing Arts Center. This special concert will highlight the sounds of Mississippi, with three world premiere performances of works commissioned specifically for the event by the Delta State Wind Ensemble, Delta State Chorale and voice faculty artists. The Delta Music Institute All-Stars will also perform Mississippi-centric music, and audience members will be treated to the unique sounds of the Delta, with performances by special guest artists Jimmy "Duck" Holmes and the Rising Star Fife and Drum band.
Programming is sponsored in part by the Mississippi Humanities Council, the Delta Center for Culture and Learning and Delta State's QEP Committee.
All events are free and open to the public.
For more information, contact the Music Department at 662-846-4615.