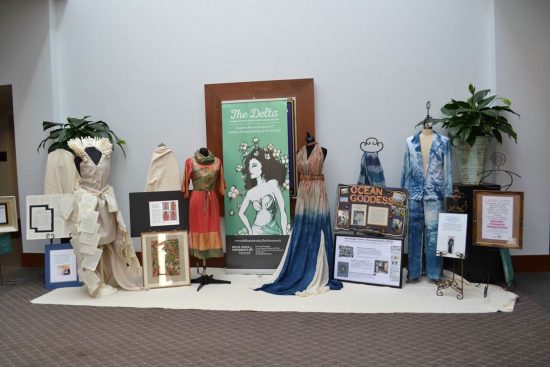 Delta State fashion merchandising students and faculty showcased some of their original cotton apparel designs at the recent meeting of the Delta Council.
According to Dr. Jan Haynes, Professor of Fashion Merchandising in the Division of Family and Consumer Sciences, these designs were created from upcycled materials, such as cotton sheets and were eco-dyed with natural dyes at a DSU cotton workshop in September, taught by Pat Brown, MFA. The students' designs were then presented at the Cotton Summit event held at Mississippi State in November.
This was the culmination of  a grant project, "Delta Cotton, Weaving Futures," that included three day-long educational events featuring cotton. The grant project was a joint partnership of the three Mississippi universities that offer Fashion Merchandising programs: Delta State, Mississippi State, and the University of Southern Mississippi. Funding was provided by the Importer Support Program of the Cotton Board and Cotton Incorporated.