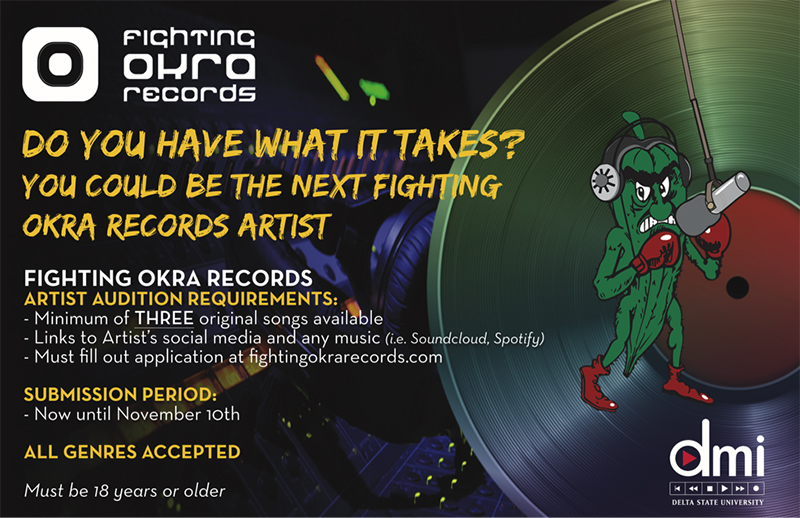 Fighting Okra Records, the student-run record label within the Delta Music Institute's entertainment industry program at Delta State University, has launched its search for the next FOR recording artist.
Performing artists interested in pursuing this unique opportunity can visit fightingokrarecords.com, fill out the application form in its entirety, and submit online for a chance to be selected. The submission period will remain opent until  Nov. 10 at 11:59 p.m.
FOR is accepting submissions from both solo artists and bands of any musical genre. This year, the search has expanded beyond Delta State's campus to include solo acts or groups in the surrounding area. All applicants must be 18 years of age or older and provide basic information regarding their musical endeavors.
FOR's main purpose is to select a talented musician or band and provide them with professional industry utilities paired with significant industry insight to expand and strengthen the career of whomever the label selects.
"The artist or band selected for the Fighting Okra Records label will have a unique opportunity to have multiple university resources available to them for their career development through the students in the practicum course," said Tricia Walker, DMI director. "The FOR members will facilitate photography, professional audio, publicity and promotion services on behalf of the artist in order to provide the artist with tools for building a strong foundation going forward."
The Delta Music Institute is an independent center of study under the College of Arts and Sciences at Delta State University, offering a bachelors degree in entertainment industry studies. The focus of the DMI is to provide students with a broad and thorough education in the technological, creative and business areas of the music and entertainment industry. For information about the DMI or Fighting Okra Records, contact 662-846-4579, or visit http://dmi.deltastate.edu.