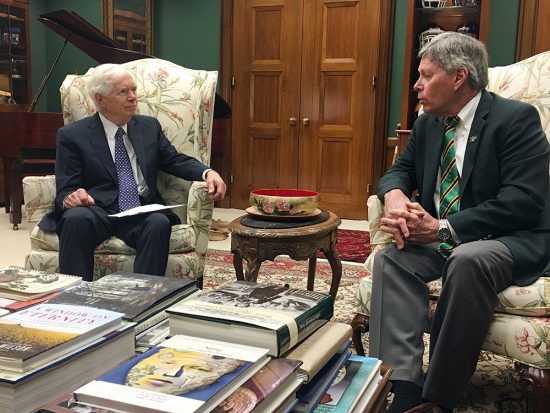 Delta State University President William N. LaForge visited the nation's capital in late April to touch base with Mississippi's federal lawmakers.
"This was an opportunity to visit with the Mississippi congressional delegation and their staffs," said LaForge. "There are issues that we want them to support or oppose, and we had an opportunity to express our concerns with them."
LaForge personally spent time with Mississippi Senators Thad Cochran and Roger Wicker, and the staffs of Mississippi's four members of the House of Representatives.

The conversations focused on grants, federal funding and alternative funding sources to support Delta State.
"Government relations and public policy advocacy are necessary in order to keep issues in front of our lawmakers so they know what our interests are, and so that they can vote and act accordingly. It allows us to express our needs and interests to our government."
"It's all about directly addressing the issues that are important to us as a constituent institution," added LaForge. "We are always exploring possibilities for Delta State assistance."
LaForge is no stranger to Capitol Hill, having spent time in the '70s with Congressman David Bowen and in the '80s working as Cochran's chief of staff.
"Senator Cochran is very special to me. We have a unique relationship that goes way back," said LaForge. "It was great to see my mentor again and have a visit with him. He has a deep interest in education in general, and certainly higher education. He's a great resource for us at Delta State."
LaForge also has a connection with Wicker, as the two were law school classmates at the University of Mississippi.
Follow all Delta State University news at www.deltastate.edu