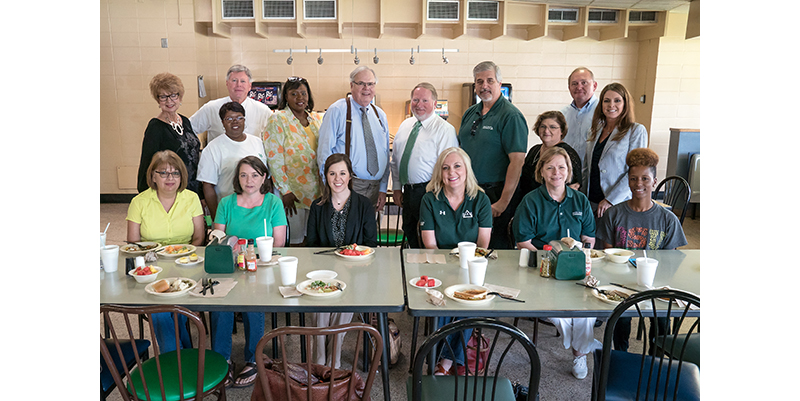 Members of the  President's Cabinet and fellow staff members shared lunch at Delta State's Young-Mauldin Dining Hall on Thursday, the final meal to be served at the cafeteria until major building renovations come to fruition.
According to Jeff Barkman, director of Facilities Management at Delta State, the $9.2 million in renovations will include an updated dining space, theater, snack bar and private dining room. The remodeling will also feature a new state-of-the-art kitchen.
The new temporary dining location will be the State Room in the H.L. Nowell Student Union. A temporary kitchen has also been constructed across the hall.
Jamie Rutledge, vice president for Finance and Administration at Delta State, said the anticipated start of construction is Sept. 1 and will continue for 18 months.
"The cafeteria will be totally renovated throughout the entire building," said Rutledge. "All of the mechanical, plumbing and electrical will be completely replaced. Repairs will also include all new kitchen equipment, furniture and serving lines."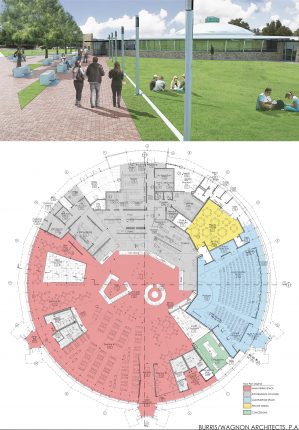 Dr. Vernell Bennett, vice president for Student Affairs, said the renovations would provide a major boost to the student dining experience.
"Student Affairs is excited about this project. This state-of-the-art facility will benefit both current and future students by improving the university's service delivery, campus facility and food service offerings, and recruitment," said Bennett. "The theater and private dining room will be very helpful for programming and will serve as a vital additional outlet for student engagement activities and projects. The updated dining space and expanded food service choices will afford our students more options for dining, which was the topic of several town hall forums that Student Affairs sponsored last spring."
Ashley Griffin, president of the Student Government Association, said her peers are also looking forward to the upgrades.
"When we survey students at Delta State for things they feel will enhance their college experience, responses always includes Wi-Fi and their cafe experience," said Griffin. "By remodeling the cafe with these accommodations, it will become a great place for eating, but also a place for students to socialize and relax in an on-campus area that's not the dorm. The updates in the kitchen will hopefully give the cooks more food options to serve students. I feel this is a step towards fulfilling what students having been wanting for years."
Follow all Delta State news at www.deltastate.edu.