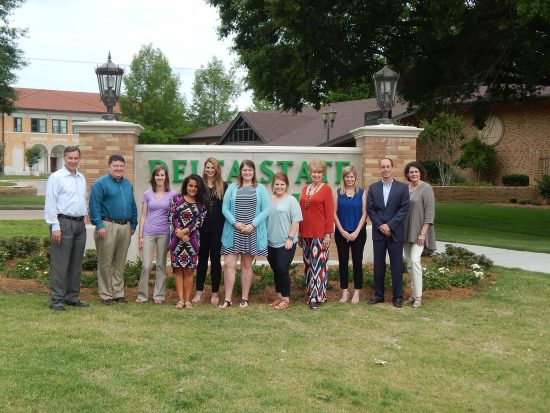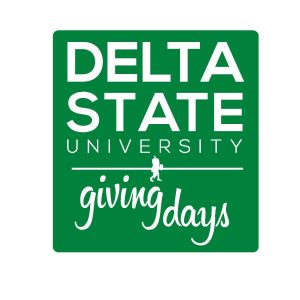 The Delta State University Alumni and Foundation Office has implemented a new philanthropy initiative, Delta State Giving Days, to encourage alumni and friends to donate to the Annual Fund and help reach the goal of $500,000. The objective of Giving Days is to raise by June 30th the remaining $75,000 towards the $500,000 goal and to increase overall donor participation.
"As a public university, Delta State relies heavily on financial support from individuals, businesses, and foundations," said Missy Pearce, Director of the Annual Fund. "Gifts to the Annual Fund are used primarily for awarding scholarships, faculty and staff development, marketing the university, and a multitude of other projects necessary for enhancing the University. This year the Annual Fund funded new initiatives in the areas of Admissions and Student Success Center to help with recruitment and retention of students."
Giving Days will begin May 23 and end June 30, which gives alumni and friends 39 days to make a gift. That's an average of $1,923 per day needed to reach the goal. No gift is too small; previous donations range in size from $2 to $23,000. All are encouraged to give, even current students. Jessica Foster, of Clarksdale began donating to the Annual Fund when she was a sophomore at Delta State. Foster graduated in December, but she still continues to support the Annual Fund.
"Delta State has been nothing less than the perfect home-away-from-home for me," said Foster. "The Annual Fund allows the university to improve in multiple areas. I want to help Delta State become the best university it can be because it has helped me become the best person I could be."
In addition to reaching the $500,000 goal Giving Days offers an opportunity to achieve a goal of 100% participation among business, families, and university campus offices. Leading the way is the Delta State Alumni-Foundation Office staff who has achieved the 100% goal.
"We are proud to claim that 100% of employees of the Alumni and Foundation Office are donors to the Annual Fund," said Keith Fulcher, Executive Director of Alumni-Foundation. "The office has also achieved the goal of 100% of all Alumni employees being dues paying members of the National Alumni Association, and we are now working towards the goal of 100% of employees having a Delta State logo car tag. All three sources of revenue support the University."
The Alumni and Foundation Office staff invites and challenges others to join them in reaching the 100% mark in the areas of making a gift to the Annual Fund and being a dues paying member of the National Alumni Association.
Over 600 Alumni and friends have already made a gift to the Annual Fund. The names of Annual Fund donors can be found at www.deltastategiving.org/unrestrictedannualgiving/givingclubs. Your gift will help us reach our numeric goal of 700 donors to the Annual Fund as well as the monetary goal.
The process of making a gift is very simple and can be made online at www.deltastategiving.org, or checks can be mailed to DSU Foundation, Box 3141, Cleveland, MS 38733. Gifts of stock and other appreciated assets are acceptable alternatives to making cash gifts.
Please consider using the Twitter hashtag #DSUGivingDays to encourage others to join you in making a gift. Tell us why you give by sharing your story on Facebook, Twitter or Instagram.