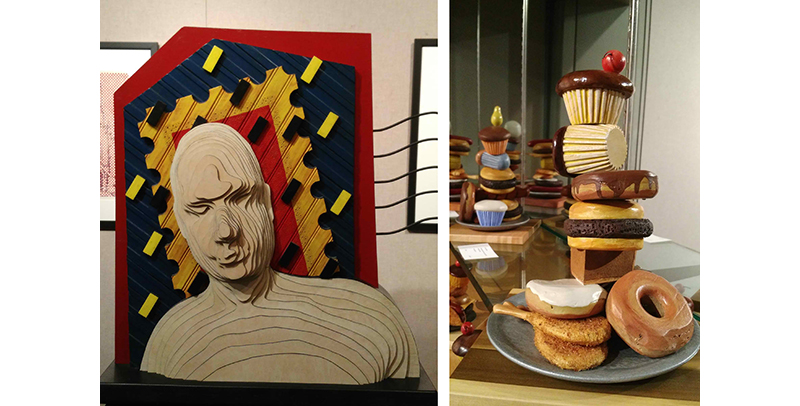 "Ron Koehler Retrospective: 45 Years of Sculpture" opens at the Fielding Wright Art Center on Aug. 31.
Delta State University's Fielding Wright Art Center opens its 2017-18 season on Aug. 31 with "Ron Koehler Retrospective: 45 Years of Sculpture," an exhibition celebrating the career of the former Department of Art chair.
An opening reception will be held Aug. 31 from 5- 7 p.m.
Koehler taught at Delta State University for 35 years and served as chair of the department for more than a decade. He retired this summer as professor and chair emeritus.
During his long and distinguished career, Koehler participated in over 500 regional, national and international exhibitions, received countless awards, and saw his work enter the permanent collections of museums and galleries across the nation.
The retrospective offers a rare opportunity to absorb the astonishing breadth of Koehler's artistic pursuits, the subject matter that has occupied him, and the variety of media he has employed.
Koehler said that a casual visitor to the exhibit might get the impression that the work was created by more than one artist, but what connects his wide variety of work is his interest in exploration.
"Exploration of shape, form, media, color, texture, concept and genre," said Koehler. "Exploration of technique, movement, scale, iconography, purpose and activism. Exploration of personal goals. Exploration of time and place. Exploration of fear, and exploration of the absurd."
His explorations of a subject matter, or the possibilities of a medium, often lead him to work in a series. Another common element in Koehler's works is his ever-present sense of humor, as seen in the "Balanced Diet" series, which consists of an assortment of cholesterol heavy food items. Examples from his famous "Brush" series, which numbers in the hundreds, will also be included in the exhibit.
"I'm not sure if I made the choice to devote my life to creating art, or if the choice was made for me long before I was born by some cosmic combustion I was never privy to," said Koehler, looking back on his career. "What I can say for absolute certain is that art and the creation of it has defined my life in immeasurable ways. This exhibition, I hope, will document the trip thus far."
"Ron Koehler Retrospective: 45 Years of Sculpture" will run from Aug. 24 to Sept. 21. Koehler will generously donate all proceeds from exhibit sales to the foundation of the Salley/Koehler Community College Scholarship Fund at Delta State University.
Regular gallery hours are Monday through Thursday from 8 a.m. to 5 p.m. and Fridays from 8 a.m. to 4 p.m. The gallery is closed on weekends, holidays and during semester breaks.
For more information, visit the DSU Art Department's website at http://www.deltastate.edu/college-of-arts-and-sciences/art/ or contact 662-846-4720. For updates and announcements of upcoming events, follow Delta State Art Department on Facebook or join our email list.