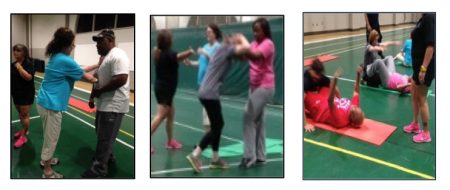 The American Association of University Women recenlty sponsored a self defense training with the hope of giving college women access to additional safety tips while away from home.
Brandie Hudson of the Bolivar County Sheriff Department conducted the hands-on tactical training emphasizing the need for women to pay attention to their surroundings.
The class included proper usage of mace, tasers and other weapons. Students also received safety apps training from Antoinette Williams, a computer information systems graduate of Delta State. Williams provided instructions on downloading safety apps on personal cellphones, arming students with an additional sense of security during this holiday season.
The number of sexual assaults, dating violence, domestic violence and stalking cases on college campuses are required to be published as a part of the Campus SaVE Act, which addresses campus sexual assault policies within the Higher Education Act of 1965. The act also require schools to have prevention measures in place to include counseling, health services, school disciplinary proceedings and legal options.
"The AAUW sees this self defense training as a way of giving back to Delta State University for giving us an opportunity to promote our efforts of voting rights, domestic violence awareness, more women in STEM fields and pay equity," said Dr. Glendscene Williams, president of the AAUW Cleveland branch.
Students are welcome to join AAUW for free. For more information, contact Williams at gwillims@deltastate.edu.