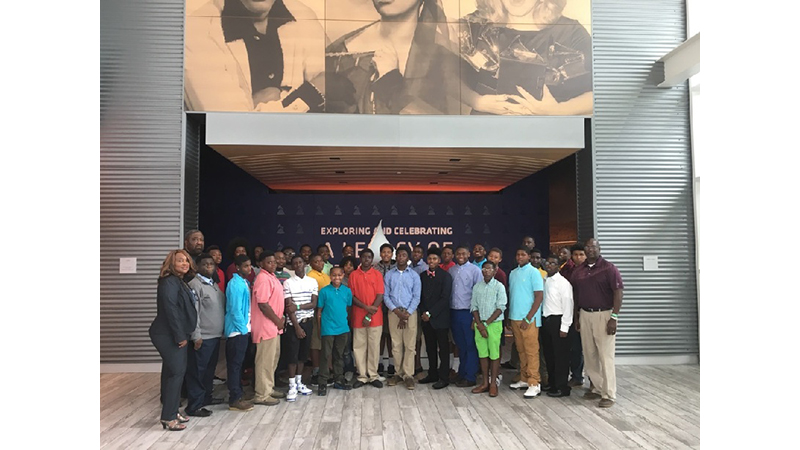 The third annual Summer Youth Entrepreneurship Program recently wrapped up programming at Delta State University.
The program, in partnership with the Indianola Promise Community, is sponsored by Delta State University's College of Business and Aviation. Targeting male students ages 15-19, the camp provides instruction in business vocabulary and practical work experience to enhance entrepreneurial skills and develop work ethics.
The IPC is funded by the Delta Health Alliance.
This year's schedule culminated with a tour of the Delta Music Institute at Delta State and GRAMMY Museum Mississippi on July 24.
"This program is designed to enlighten 40 young men about entrepreneurship and the characteristics required to be an entrepreneur," said Dr. Glendscene Williams, associate professor at Delta State.
Students from the Sunflower County School District are groomed to view their community with aspiration for starting their own successful small businesses.
"Our goal is to enhance their vocabulary when it comes to entrepreneurship and their financial literacy," added Williams. "To do this, they participate in debates on economic conditions and other business topics related to their community and participate in a business plan competition."
Local businesses in Indianola give each of these students the opportunity to watch the day-to-day operations of a small business after they complete the business plan competition.
"This program serves as a streamline of a win-win relationship for the participants and the community," said Williams. "I see it as an opportunity for a community to invest in their own professionals and future business leaders, whereby the participants start at an early age to become aware of the community in which they live and the opportunity to be a major contributor to its economic growth."
Learn more about the program at http://deltahealthalliance.org/project-category/indianola-promise-community, or contact Williams at gwillims@deltastate.edu.