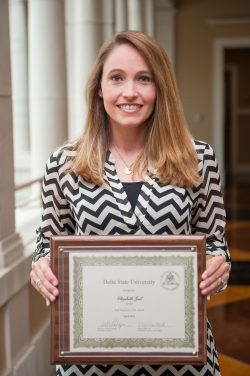 The Delta State University Staff Council recently honored Elizabeth Joel, coordinator of Continuing Education, as the April 2016 Employee of the Month.
Joel, a native of Doddsville, has been a staff member at Delta State for nearly six years.
"I am honored to receive Employee of the Month from my peers at Delta State," said Joel. "I could not accomplish what I do without the support of the other staff members in Graduate and Continuing Studies, and those across campus who I work with on a daily basis."
She is a 2005 Delta State graduate with a degree in fashion merchandising.
Joel currently resides in Cleveland with her husband, Jeff Joel, and their two children, Justin (12) and Anna James (3).    
Each Employee of the Month winner receives a plaque, monetary award, WalMart gift card from the Student Government Association, an engraved insulated coffee mug, a free parking decal courtesy of the Campus Police Department, a box of treats from The Sweetery, a parking spot of their choice, marquee announcement and website recognition.
For an archived list of previous winners, visit http://www.deltastate.edu/about-dsu/administration/staff-council/staff-council-employee-of-the-month/employee-of-the-month-archives/
Delta State's Staff Council serves as a liaison between the administration and the staff to provide a formal process for staff to discuss issues involving university policies and procedures and to forward ideas, recommendations and opinions to the president.