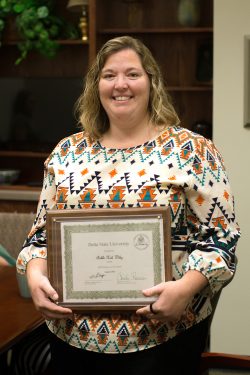 The Delta State University Staff Council recently honored Bobbi Wiley, Admissions clerk, as the August 2016 Employee of the Month.
Wiley, a Rosedale native, has been working in the Office of Admissions since 2013. She is a 2004 Delta State graduate majoring in management.
"I'm very honored to be selected by my peers as Employee of the Month," said Wiley. "It was definitely a big surprise."
Outside of work, she enjoys spending time with her husband, Jamie, and their two children, Karlie Grace and Parker.
Each Employee of the Month winner receives a plaque, monetary award, an engraved insulated coffee mug, a free parking decal courtesy of the Campus Police Department, a box of treats from The Sweetery, a parking spot of their choice, marquee announcement and website recognition.
For an archived list of previous winners, visit http://www.deltastate.edu/about-dsu/administration/staff-council/staff-council-employee-of-the-month/employee-of-the-month-archives/
Delta State's Staff Council serves as a liaison between the administration and the staff to provide a formal process for staff to discuss issues involving university policies and procedures and to forward ideas, recommendations and opinions to the president.