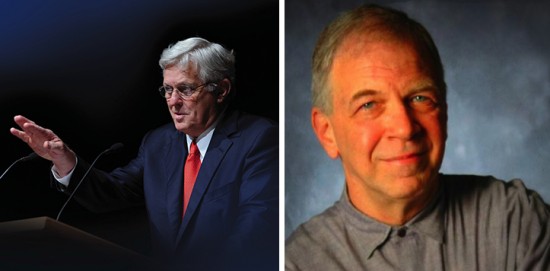 The Delta Music Institute entertainment industry program at Delta State University will host the award-winning Thacker Mountain Radio Show Feb. 27 at 3 p.m. in DMI Studio A in the Whitfield Building on campus. This marks the eighth year for the Thacker in the Delta event, which serves as a fundraising event in support of DMI programming and the Duff Dorrough Memorial Scholarship fund.
This year's featured author will be University of Mississippi Chancellor Emeritus Robert C. Khayat, reading from his book, "The Education of a Lifetime," a compelling memoir about his childhood days in Moss Point, Mississippi, the state's segregationist policies that prevented his SEC championship baseball team from playing in the College World Series, and the sadness of experiencing his father's arrest and guilty plea.
Khayat is a former college football all-star, All-Pro kicker for the Washington Redskins, law professor and president of the NCAA Foundation. He holds degrees from Ole Miss and Yale University, and was an Academic All-American football and baseball player while at Ole Miss. He has received the NFL Lifetime Achievement Award, as well as the National Football Foundation Distinguished American Award. Khayat served as the 15th chancellor of the University of Mississippi from 1995-2009.
Featured musician for this year's show will be award-winning Mississippi singer-songwriter J. Fred Knobloch.
Knobloch, a Jackson native, began performing at the age of 13 when he and some friends formed a band to play at school. After leaving school to play music full-time, he began performing solo at nightclubs across the South and landed work as a session guitarist at MALACO Studios in Jackson, working for such R&B notables as Dorothy Moore, Eddie Floyd and Anita Ward.
It was at Malaco that he met drummer James Stroud and pianist Carson Whitsett, who encouraged Knobloch's writing and performing. The encouragement paid off when "WHY NOT ME," co-written with Whitsett and produced by James Stroud, reached No.1 on the Billboard AC chart and No.18 on HOT 100. After a two-year stint in Los Angeles, Knobloch home to the South and relocated to Nashville, where he currently resides.
As an artist, session musician and songwriter, Knobloch found success with Thom Schuyler and Craig Bickhardt, forming the group SKB, who claimed a No. 1 country record with "Baby's Got A New Baby," co-written by Knobloch with fellow Mississippian Dan Tyler.
His songs have been included on gold and platinum selling records by artists Faith Hill, George Strait, Delbert McClinton, Etta James, Ray Charles, Lorrie Morgan, John Anderson, Trisha Yearwood, Neal McCoy, Confederate Railroad, Sawyer Brown, Nitty Gritty Dirt Band and Kenny Rogers.
In addition to this year's featured guests, DMI Director Tricia Walker will sing and DMI's newest band, B4Y2K, will perform hits from the '90s. Thacker Mountain Radio is hosted by Jim Dees and features the show's talented house band, The Yalobushwhackers.
Thacker in the Delta is open to the public at no charge, but gifts and donations to the Friends of DMI fund are encouraged. For online giving, please visit www.deltastategiving.org and search for Delta Music Institute.
The Delta Music Institute is an independent center of study under the College of Arts & Sciences at Delta State University, offering a bachelors degree in Entertainment Industry Studies. The focus of the DMI is to provide students with a broad and thorough education in the technological, creative and business areas of the music and entertainment industry. For information, contact 662-846-4579 or visit http://dmi.deltastate.edu.