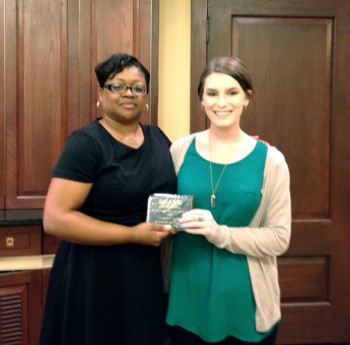 Delta State student Katherine Floyd recently received statewide recognition as the 2016 Outstanding Dietetics Student (Coordinated Programs) for Mississippi. She received the award at the annual Mississippi Academy of Nutrition and Dietetics (MSAND) meeting in Hattiesburg in early April.
The Outstanding Dietetics Student Award program recognizes the emerging leadership and achievement of students in ACEND-accredited and approved dietetics education programs, and encourages their participation in the MSAND.
"Katie is one of the extremely rare students who combines most any characteristic and skill a professor could wish for in a student — professionalism, curiosity, quest for knowledge, ability to work as a team or individually, and strong work ethic. I could go on and on," said Dr. Virginia Webb, assistant professor of Family and Consumer Sciences at Delta State. "Katie has served as a leader at each university she attended and also served her university through volunteer efforts."
Floyd excels as a student in the Coordinated Program in Dietetics at Delta State. She came to DSU after completing a bachelor's degree at the University of Mississippi and a Master's degree at the University of Southern Mississippi.
"I've thoroughly enjoyed my time here at Delta State, and I believe my experience in the Coordinated Program in Dietetics has given me the knowledge and resources I need to begin my career as a successful dietitian," said Floyd. "Working with my fellow interns, professors, patients, and interdisciplinary team of medical professionals has been an experience unlike any other, and I am extremely thankful for the opportunity to expand my knowledge in the field of nutrition and dietetics."
Dr. Ensley Howell also attended the MSAND conference.
"Katie is a very mature and hard working student," said Howell. "She has served as president of the Student Dietetic Association and has been a model student. "
MSAND is a state affiliate association of the Academy of Nutrition and Dietetics, which has 70,000 members nationally and throughout the world.