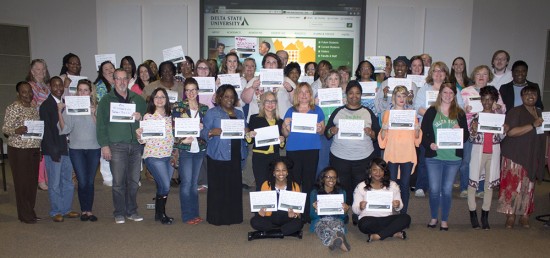 The Division of Counselor Education and Psychology at Delta State recently held the 35th annual F. E. Woodall Spring Conference for the Helping Professions. The event, held April 14-15, hosted a record 400 participants. The conference offered a workshop, keynote address, and 35 breakout sessions covering topics such as neuroscience, cultural competency and crisis interventions.
For the sixth year in a row, the president of the American Counseling Association keynoted the affair.
Counselors, social workers, psychologists and other helping professionals from across the state and region drove in for the conference.
"Our reputation at Delta State University for providing quality education extends as well to our continuing education opportunities," said Cat Vincent, conference coordinator. "The conference committee spends many hours in outreach and in selecting the best proposals for our participants."
"We look forward to hosting the Woodall Conference every year," said Sally Zengaro, chair of the Division of Counselor Education and Psychology. "It serves as a vital source of continuing education for faculty and area mental health professionals."
For the first time, the counselor education faculty also hosted an additional daylong workshop. Dr. Thelma Duffey, founder of the Association for Creativity in Counseling, presented a six-hour workshop on "Creativity in Therapeutic Practice." Participants received free continuing education thanks to the division's grant funding from the Health Resources and Services Administration of the U.S. Department of Health and Human Services.
Area counselors who served the university last September after the shooting on campus were invited to attend as honored guests. Internship and practicum site supervisors were also invited to attend as guests in acknowledgement of their willingness and dedication in working with DSU counseling students.
The conference boasted record student involvement from volunteering to presenting. Three counseling internship students had the opportunity to present with their Internship Site Supervisors.
"As a presenter, not only did I get to study and present information relative to my internship but also information pertaining to handling crisis in mental health," said Quinton Smith, counseling student and past president of Chi Sigma Iota. "The feedback was positive and heartwarming."
Thirty counseling practicum and internship students presented in three different sessions as small groups or individuals in flash talks, a TED talk style of presentation. The students covered the essential elements of their material and provided attendees with applicable, practical information. The topics of the talks were "Homelessness: Identifying & Helping Lost Students," "Self-Care for Helping Professionals" and "Distress Tolerance/Intolerance: Implications across Counseling Venues."
Learn more about the The Division of Counselor Education and Psychology at http://www.deltastate.edu/college-of-education/counselor-education-and-psychology.