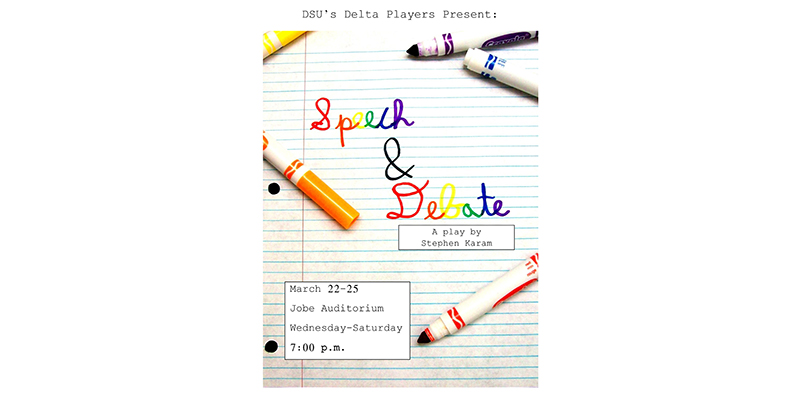 The Delta Players will present "Speech & Debate," March 22-25 at 7 p.m. in Jobe Hall Auditorium on the Delta State University campus.
The play was written by Stephen Karam, who recently won a Tony Award for his play "The Humans."
Co-sponsors for the play include the Delta Music Institute and DSU's Quality Enhancement Plan. Voluntary monetary donations for Delta State University's Gay-Straight Alliance will be collected after the show.
"Dr. Kilby Allen, the director, has done a terrific job of balancing the play's humor with the core drama of three socially awkward teenagers struggling with their emerging sexual identities in modern America," said Don Allan Mitchell of the Division of Languages & Literature, which is producing the play.
"The darkly-comic play is definitely not a play for younger audiences. The film based on the play is rated PG-13," added Mitchell. "There are interweaving sex scandals, dancing actors in flesh-colored body stockings and purple underwear, and a Broadway musical presentation of alternative facts concerning Abraham Lincoln's sexual orientation. In short, it is precisely the type of challenging material that college drama groups should be presenting to audiences."
Cast members include Delta State students Layla Young as Diwata, Logan Swain as Howie, Jess Bennett as Solomon, and future Cleveland Central High School student Ginny Smith playing the double role of the teacher/reporter. The stage manager is Delta State staff member Mallory Shemwell. The technical director is Amber Wolfe, who earned two degrees at Delta State and is the drama sponsor at Cleveland High School.
"Over the last few semesters, Ms. Wolfe has been very supportive of the Delta Players, and the Division of Languages & Literature will continue to collaborate with her and her student productions in the very near feature," staid Mitchell.
The play is free and open to the public, with the condition that audience members acknowledge the play's challenging content at the sign-in and information table in the lobby.
For more information, contact the Division of Languages & Literature at 662-846-4060 or Mitchell at amitchell@deltastate.edu.