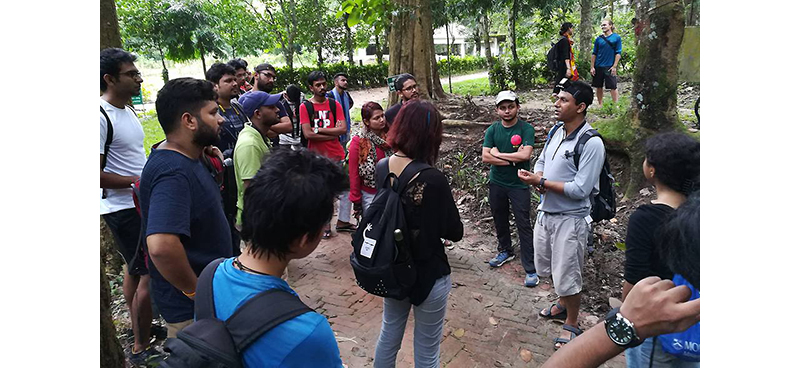 Dr. A.H.M. Ali Reza, associate professor of biology at Delta State, recently returned from leading another international field course in his homeland of Bangladesh.
The two-week tropical field biology study abroad course, which took place in July, was in partnership with the Creative Conservation Alliance (CCA), an NGO that works tirelessly to conserve Bangladesh's imperiled wildlife.
"This was a special opportunity for students to get direct access to one of the most diverse environments in the world — the jungles of Lawachara National Park," said Reza. "Students were provided with some of the best résumé-boosting conservation field experience you could imagine."
Open to university students around the world, the curriculum focused on biology, natural resources management, conservation biology, wildlife ecology, management, veterinary sciences and related fields.
Thanks to the partnership with CCA, course fees directly contributed to the conservation of the endangered flora and fauna of Bangladesh.
Reza also led a shorter-term outdoor adventure education workshop from July 13-16 open to local participants. The workshop was sponsored by Delta State University, the DSU Quality Enhancement Plan and the CCA. Participants learned about environmental policies and issues, research and study practices, and wildlife photography techniques.
A group of 45 students from local universities participated in the workshop and received a certificate issued by Delta State and CCA. Reza was joined by a team of experts to manage the large group of students. Colleagues included: Ceasar Shahirar Rahman, CEO of CCA; Dr. Kamrul Hasan, professor of zoology at Jahangirnagar University; Scott Trageser, director of CCA; Dr. Samia Saif, biologist of BCAS; and Tania Khan, a freelance naturalist.
Reza said hands-on field courses often help students get recognized in the scientific field.
"You have a great chance of getting your name on a scientific publication by making a range extension, or even discovering a new species," he said. "Our 2014 and 2015 trips recognized multiple potentially new species and made several range extensions. In 2016, our group discovered a new species of a Takydromus lizard."
During his trip to Bangladesh, Reza also organized two seminars at Jahangirnagar University and Independent University of Bangladesh, where he discussed the environmental policy issues related to U.S. and Bangladesh perspectives. Both seminars had high attendance and wide covered by the local media.
At the end of the trip, Reza participated in a live — online as well as on a local television — panel discussion on river conservation and aquatic biodiversity in Bangladesh. The small country, slightly bigger than the state Mississippi, has more than 700 major rivers.
"Many of them have issues related to pollution, encroachment, building unplanned dams, etc.," said Reza. "During the panel discussions, experts and managers discussed ways to mitigate the issues."
Reza, who also serves as Delta State's international partnership liaison, is planning to offer another field course in December. For more information about fieldwork and other opportunities with Delta State' environmental science program, contact Reza at areza@deltastate.edu.