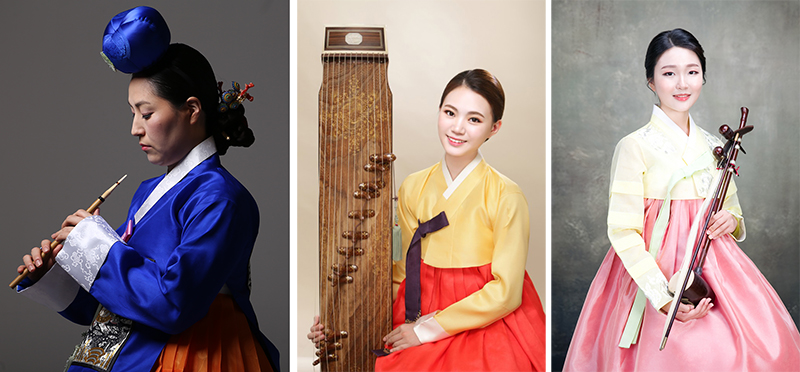 Left to right, Dr. Jiyoon Kim, Yoon Jeong Bae and Eunhye Jang
The Delta State Department of Music will host "In the Beauty of Gugak: Korean Traditional Music," Sept. 26-28, featuring three performers of Korean traditional music, Dr. Jiyoon Kim, Yoon Jeong Bae and Eunhye Jang.
The program will include a workshop for Delta State woodwind students on Sept. 26, a lecture on Korean traditional music and instruments on Sept. 28, and evening recitals on Sep. 26 and Sept. 28 at 7:30 p.m. These lecture and recitals, all held at the Bologna Performing Arts Center Recital Hall, are free and open to the public.
"In the Beauty of Gugak" is sponsored by the Department of Music and the DSU Quality Enhancement Plan.
Dr. Jiyoon Kim is a Certified Apprentice of Korean National Intangible Cultural Heritage 46 Piri Jeongak & Daechwita, and the first Ph.D. in the field of Piri, a Korean traditional woodwind instrument. She distinguished herself as a performer by winning awards in various competitions such as the Dong-A Korean Traditional Music Concours and the Chun-Hyang Korean Traditional Music Contest. As an artist from Art & Culture Management CloudPoseidon, she has received both critical and public acclaim through solo performances such as "Cloud Way," "Scent of gratitude," "Wind blowing from the East," and "Harmony." She has also been invited to perform at concerts organized by the National Gugak Center in Seoul, Busan and Jeollanam-do. Since she won the Korean Association of Critics Special Award in 2015, she has internationally publicized Korean Traditional Music by performing in Yakutia White Night International Music Festival; TNB International Music Festival in Brno, Czech Republic; the Composers Festival of Krokow, Poland; and Dolby Concert in USA. She is CEO of Sound Research Association Sori Soop and Music Director of Hecabe SE Company. She has earned her bachelor's, master's,and docroral degrees at the Department of Music of Seoul National University. A former lecturer at Seoul National University and Ehwa Womans University, she currently teaches at Dankook University and Chugye University for the Arts in South Korea. She will present solo works for piri and collaborate with DSU music faculty members at the recital.
Yoonjeong Bae, who will present a Gayageum performance at the Tuesday recital, graduated from Korean Traditional Cultural High School in Busan. She is currently attending Busan National University. She has performed with the Youth Orchestra of the Busan National Gugak Center and has been selected as Young Artist by Art & Management CloudPoseidon to perform 'Tradition n Trend.'
Also featured in the Tuesday recital, Eunhye Jang, has played Haegeum, a Korean traditional string instrument, since 2012 when she was 13 years old. She graduated from the National High School of Traditional Arts in Korea and currently attends the Korea National University of Arts (K'Arts). She participated in Korea-Germany Electromobility Forum (2015), and K'Arts' '2017 Sound from Spring' and 'Soul.' She has also been selected as Young Artist by Art & Management CloudPoseidon to perform 'Tradition n Trend.'
For more information about the program, contact the Department of Music at 662-846-4615 or visit http://www.deltastate.edu/artsandsciences/music/events/ .