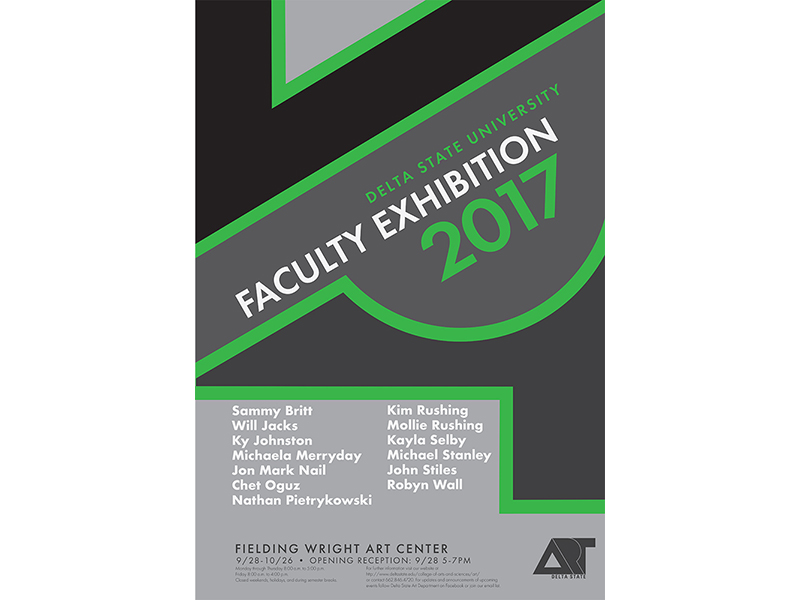 Delta State University's Department of Art invites the public to a reception celebrating the opening of its annual faculty exhibition on Sept. 28 from 5-7 p.m.
Delta State's art faculty are practicing artists, designers and filmmakers who regularly exhibit in venues across the nation. The annual faculty exhibition, held at the Fielding Wright Art Center, offers the campus and community an opportunity to view new work created by these artists.
This year, the department welcomed four new faculty members — Nathan Pietrykowsky, Kayla Selby, John Stiles and Robyn Wall — as well as the return of Sammy Britt, a Delta State retiree.
Britt is represented by a series of landscape paintings that explore the language of light and color to distinguish the different light keys in which they are seen.
Pietrykowsky will show part of a series that chronicles the history of a surreal cosmos called Too Dee. Pietrokowsky draws images from his unconscious, theories of cosmology and various mythologies in the creation of this imaginary universe.
Selby's work is part of an ongoing exploration in utilizing science and research as artistic media while reinterpreting scientific data. Her interest in the possibilities of using scientific data began with a collaboration with a St. Jude scientist who began re-contextualizing human samples in Petri dishes as literal human portraits.
Stiles, who teaches graphic design, works in a variety of media and will present examples of his collages, paintings and digital work. He approaches collage in a manner similar to painting, considering each piece of paper a stroke of his brush. The subject matter of the collages was inspired by his love of skateboarding and surfing. Stiles's paintings are inspired by hurricanes which he experienced while living in Florida. Although awe-inspiring, Stiles also sees a certain beauty in hurricanes, especially when viewed from space. With their swirling motion, they remind him of paintings such as Vincent Van Gough's "Starry Night," and he approach them with an Impressionist's brush.
Wall has been involved in examining her personal history of homes. She reconstructs these homes as they exist in her memory. While reconstructing real and imagined spaces, her work acknowledges the fluidity of memories.
Music plays an important role in lives and work of faculty members Ky Johnston and Michael Stanley. Johnston is a practicing musician, and Stanley has created a number of sculptures inspired by music, including the "Blues Man" that is featured in the Sculpture Garden at the GRAMMY Museum Mississippi. Stanley, who is a woodworker and sculptor, took on the challenge of making a guitar from scratch, along with Johnston, a potter. Over the last two years, the two have experimented and perfected their designs of electric guitars, a series of which will be on exhibit.
Filmmaker Jon Mark Nail has a simple and effective recipe for making a successful film. " Step one — place the audience into the characters' immediate dilemma. Step two —complicate further. Step three — repeat step two until you reach the conclusion, i.e. somebody gets kissed, somebody gets killed, beautiful sunset, etc. Step  fours — fade to black. Cue the music. Hit the lights. Clean up the popcorn," said Nail. His work will also be projected at the show.
Michaela Merryday has been taking furniture making classes the past two years. The amount of wood waste produced in the process inspired Merryday to recycle the material into small functional objects such as lamps and jewelry. The work presented combines her interest in minimalist design and sustainability.
Mollie Rushing is a textile artist whose quilts use pattern and color to create the illusion of texture and space. A selection of her textiles will be included in the exhibit.
Over the past year, Kim Rushing has been testing his personal limits with a photographic tool that is accessible to almost everyone — a cell phone camera. While the cell phone camera has its limits, especially compared to the sophisticated equipment Rushing usually works with, he has been exploring its unique possibilities.
The exhibit will be viewable until Oct. 26. The gallery is open Monday through Thursday from 8 a.m. to 5 p.m. and on Fridays from 8 a.m. to 4:30 p.m.
For more information, contact the Department of Art at 662-846-4720. Join the department email list to receive regular updates on upcoming events, or follow the department on Facebook.