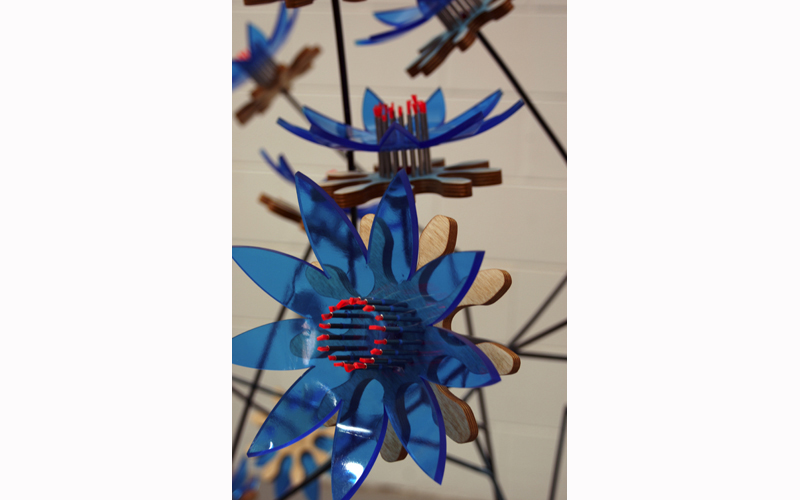 Delta State University's Fielding Wright Art Center kicks off the new year with an opening reception of Rick Herzog's exhibition "Roots" on Jan. 12 from 5-7 p.m. 
Delta State University's Fielding Wright Art Center opens the new year with an installation of Rick Herzog's exhibition "Roots."
A public opening reception will be held Jan. 12 from 5-7 p.m. Additionally, Herzog will present a public lecture in the gallery prior to the reception at 4 p.m.
Herzog is a sculptor and installation artist creating works inspired by nature that mimic organic patterns and repetitions but are composed of man-made materials to highlight man's disconnection from the natural environment.
Herzog received his BFA in 3-D design from Bowling Green State University and his MFA in sculpture from the University of Georgia. He has taught sculpture at the New College of Florida, the Herron School of Art and Design, the University of Tulsa, Eastern Oregon University, and the Universidad de Caldas in Colombia.
His work has been exhibited across the globe in almost 100 group and solo exhibitions, including most recently in the Spartanburg Art Museum in Spartanburg, South Carolina. Other recent exhibitions include: The Museum of Contemporary Art, North Miami, Florida; The Observatory, Brooklyn, New York; United States Botanic Garden, Washington, D.C.; and the Indianapolis Art Center, Indianapolis.
Herzog's exhibitions have been reviewed in Sculpture Magazine which called his work "electrified" and The Chicago Sun Times which described him as "representing the grit and grace of the contemporary South."
"Roots" will run from Jan. 12 to Feb. 23.
Gallery hours are Monday-Thursday from 8 a.m. to 5 p.m. and Friday from 8 a.m. to 4 p.m. The gallery is closed on weekends, holidays and during semester breaks.
For more information, visit the Delta State Department of Art website at http://www.deltastate.edu/college-of-arts-and-sciences/art/, or contact 662-846-4720. For updates and announcements of upcoming events, follow Delta State Art Department on Facebook, or join the email list.