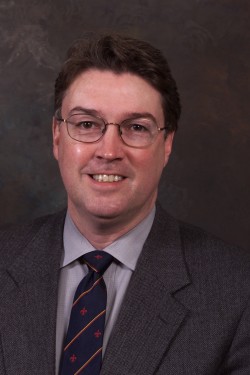 The College of Education and Human Sciences recently hosted the second annual Kent Wyatt Distinguished Lecture at Delta State University. This year's guest lecturer was Dr. Brian S. Canfield, professor of counseling in the Adrian Dominican School of Education at Barry University in Miami, Florida. Canfield's speech was titled "Building Our Professional Community."
The lecture series honors Dr. Forest Kent Wyatt, president emeritus of Delta State, whose distinguished career has served as a beacon for generations of educators, both in secondary and higher education.
Canfield shared his expertise on systems theories by providing practical applications of value driven change. In his research article, "The Dyadic Complexity Formula," Canfield wrote about the dyadic relationship as the basic relationship of all social structure — from the couple, to the family, to the largest of corporate entities.
Canfield's career in higher education has included professorships at the University of Louisiana at Monroe, Southeastern Louisiana University and the University of San Diego. Additionally, he has held academic administrative roles as a clinical director, department chair, associate dean and vice president for academic affairs.
Throughout his 30-year career, he has been active in professional service and leadership in the field of counseling. He is a fellow and former president of the American Counseling Association and a past president of the International Association of Marriage and Family Counselors.
Additionally, Canfield is an active speaker and workshop facilitator and has presented to universities and professional associations throughout the United States and abroad.
After the lecture, the COEHS recognized five outstanding alumni from the Division of Counselor Education and Psychology. The award recipients were Aretha Hargrove-Edwards, Virginia Tardy, Jonathan Grantham, Kelcey Steinriede and Jessica Willis.
In other faculty recognition news, Dr. Lisa Moon, chair of Delta State's Department of Social Work, was recently named Social Work Educator of the Year at the Alabama/Mississippi Social Work Education Conference held in Hattiesburg, Mississippi in November.
The social work faculty also accompanied 23 students at the event. Two senior students, Jerri Clemons and Claire Griffin, competed and won the student poster competition for their research on the virtual dementia tour.