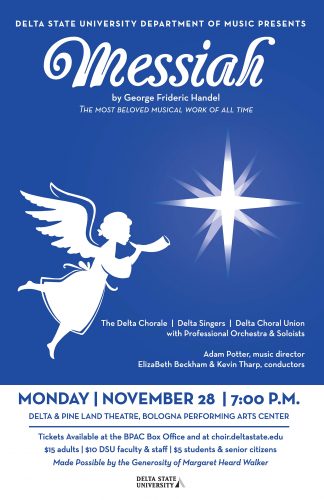 Zeigel Hall on the campus of Delta State is currently filled with the sounds of one of the most beloved musical works of all time, "Messiah," by George Frideric Handel.
The Delta Chorale, Delta Singers Okramen and Delta Singers Women's Chorale are learning the masterwork for a performance at the Bologna Performing Arts Center on Nov. 28 at 7 p.m.
Across town on Monday nights at First United Methodist Church, the Delta Choral Union is learning the same music in preparation for a grand collaboration that will take shape over the next three weeks, culminating in the concert performance.
Dr. Adam Potter, director of Choral Activities at Delta State and the conductor of the Delta Chorale and Delta Singers Women's Chorale, is the music director for the performance. He will share the podium with ElizaBeth Beckham, conductor of the Delta Choral Union, and Kevin Tharp, conductor of the Delta Singers Okramen.
"There is no better way to kick off the holiday season than with a gala choral performance like this," said Potter. "We are so excited to bring 'Messiah' to the Delta."
The Delta Chorale is the premier touring vocal ensemble at Delta State. Comprised of approximately 40 mixed voices, it performs frequently both on and off campus. Its repertoire features high-quality choral music from diverse styles, musical eras, languages and cultures. The chorale has performed by invitation at state and regional conferences of the Mississippi Music Educators Association and American Choral Directors Association.
Delta Singers encompasses two separate choirs, the Okramen men's choir and Women's Chorale, which perform together frequently. These non-auditioned choirs provide singers an opportunity to learn many styles of music and also focus on developing vocal and musicianship skills. They also serve as lab choirs for advanced student conductors.
The Delta Choral Union is an adult volunteer community choir based in Cleveland. It has a proud history of excellent singing and highly-anticipated concerts. Beckham serves as its music director.
For this performance, the Delta State University choral program has hired a full roster of professional string players from the Memphis Symphony Orchestra to accompany the choirs. Their concertmaster will be Anne-Gaëlle Ravetto, instructor of violin at Delta State.
Department of Music faculty Josh Armstrong, Shelley Collins, Michael Ellzey, Bret Pimentel and Kumiko Shimizu will complete the orchestra in the wind, percussion and continuo sections.
The performance will also feature professional artists presenting the vocal solos Handel interspersed between the choruses. Laurissa Backlin, soprano, is currently an assistant professor of music at Delta State. Chad Payton, countertenor, is an assistant professor of voice at Capital University in Ohio (former DSU faculty from 2011-16). Jamie Dahman, tenor, joined the DSU voice faculty this fall. Patton Rice, bass-baritone, is the director of vocal music at the Mississippi School of the Arts and a frequent soloist with Mississippi Opera.
Tickets for this event are available at the Bologna Performing Arts Center box office or at choir.deltastate.edu. They are $15 for adults, $10 for DSU faculty and staff, and $5 for students and senior citizens.
This performance has been made possible by a generous donation from Margaret Heard Walker.