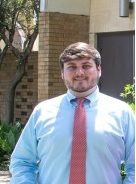 Delta State's Master of Arts in Liberal Studies program (MA-LS) is proud to announce the 2016 John S. and Jutta Karnstedt Ferretti Fellow.
This year's recipient of the Ferretti Fellowship is Brenton King, who earned his bachelor's degree in Social Science Education from Delta State in 2016. King is a native of Inverness, Mississippi, and a very deserving recipient, according to Dr. Charles Westmoreland, assistant professor of history and coordinator of the MA-LS program.
"Brent King is a terrific young scholar with a great passion for education and a bright future," said Westmoreland. "We are proud to recognize him as this year's Ferretti Fellow. "Brent's commitment to learning makes him a fitting recipient of the fellowship, which goes to an incoming MA-LS student and honors both Mrs. Jutta Ferretti and her husband, John. Nobody embodies a commitment to lifelong education and service better than Mrs. Ferretti. She is a Delta State treasure and her presence, energy and support is a true blessing to the university family. We in the Master of Arts in Liberal Studies program want to thank her for her dedication to our students."
The degree program is one of only a few in the South and provides graduate-level, interdisciplinary expertise in literature, history, gender and diversity studies, globalization studies, and the humanities in general.
The fellowship is made possible by a $10,000 gift from Ferretti and her late husband John. Ferretti graduated Magna Cum Laude with a Bachelor of Science in Interdisciplinary Studies degree in 2010, becoming the oldest graduate in the history of Delta State at the age of 86.
"Education has always been very important to me and my late husband, John," said Ferretti, in a previous Delta State release. "Learning in all fields affects the present and future as there is still so much to be discovered that we are not aware of today. Education also opens many doors to the students which impact lives locally, state-wide, nationally and internationally. You cannot help people in this life without being helped yourself."
For more information about the MA-LS program and the John S. and Jutta Karnstedt Ferretti Fellowship, contact Westmoreland at 662-846-4174, or visit http://www.deltastate.edu/artsandsciences/languages-literature/master-of-arts-in-liberal-studies/.