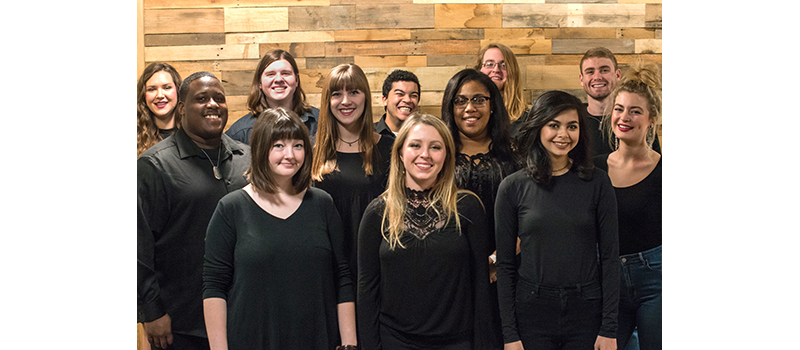 Pictured in f

ront row (from left to right): 

Kacee Russell – Jackson, TN; C

arrie Lynn Stanford – Gautier, MS; 

Schaefer Llana – Batesville, MS; 

Middle row (l to r): 

Tyan Nash – Cleveland, MS; 

Lindsey Anna Pardue- Clinton, MS; 

Audrianna Johnson – Grenada, MS; 

Kelsey Collins – Caledonia, MS; 

Back row (l to r): 

Kailey Mathis – Madison, MS; 

Ryan Bridges – Batesville, MS; 

Clay Brown – Jackson, MS; 

Dalton Shipley – Batesville, MS; and 

Cody Upchurch – Grenada, MS.
The Delta Music Institute is set to host a night of live music provided by an assortment of solo acts and bands based out of the DMI entertainment industry studies program at Delta State University. The event will take place at Hal & Mal's in Jackson on Jan. 28 with performances beginning at 5 p.m.
The DMI All Stars are the featured act, as they look to showcase their catalogue of Mississippi centric covers in preparation for their performance in Los Angeles on Mississippi Night during GRAMMY® Week. There will also be performances from three other DMI student bands and multiple solo performers. DeltaRoX brings some of the major chart toppers in the classic rock genre to life, while Ol' Skool Revue revives the classic Motown sound with their R&B, funk and soul influences shining bright. The final performing DMI band, B4Y2K, covers the many feel-good tunes that the '90s produced.
There will also be a handful of solo performers playing ahead of the bands. From the southern-styled acoustic sound of Carrie Lynn Stanford, Brittany McGee and Chris James, to the more intimate singer-songwriter ballads of Kailey Mathis, Kelsey Buquet and Schaefer Llana, there is something for everyone to enjoy.
The solo performers begin playing at 5 p.m. in the dining room of Hal & Mal's. The event is free, but a $5 donation is suggested to help support the travel costs of the student performers. The bands will begin playing at 7 p.m. in the Red Room, where a $5 cover charge is required to enter.
For more information regarding the event, contact Hal & Mal's at 601-948-0888 or the Delta Music Institute at 662-846-4579.
The DMI is an independent center of study under the College of Arts and Sciences at Delta State University, offering a bachelor's degree in entertainment industry studies. The focus of the DMI is to provide students with a broad and thorough education in the technological, creative and business areas of the music and entertainment industry. For information, visit http://dmi.deltastate.edu.