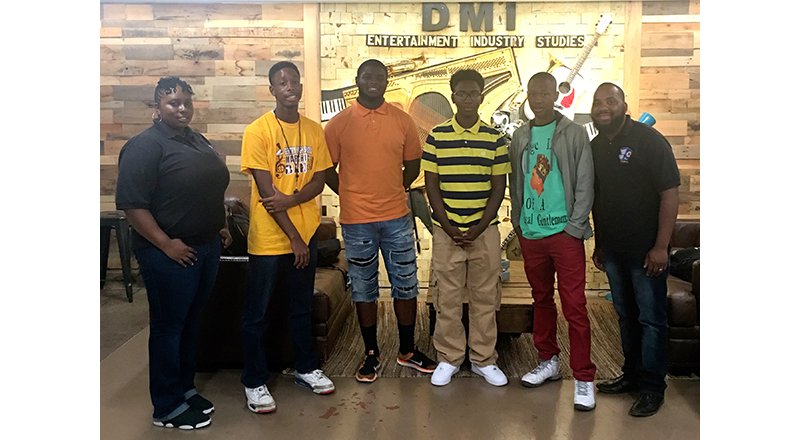 Photo (left to right):  Laeitta Wade, HWG 2.0 project assistant; Keziah Allen (Indianola); Isaac Peppers (Greenville); A'Midius Sigle (Shelby); Cle'Various Thornton (Moorhead); and Travis Calvin, HWG 2.0 project coordinator. HWG alumni not pictured: Jakevian McCaster (Greenwood); and Parker Abney II (Clarksdale).
The Delta Music Institute, an independent center of entertainment industry studies at Delta State University, recently received a $548,000 grant from the W.K. Kellogg Foundation (WKKF) of Battle Creek, Michigan, to extend its successful Healing with a Groove 2.0 program.
The program is a narrative change initiative with the mission of promoting racial healing through the creation and production of original songs and recordings among young persons of color. The current round of funding will promote the establishment and development of a HWG 2.0 alumni base and the creation of a multimedia toolkit to be used as a resource for schools and organizations interested in establishing HWG groups.
"Music has great power to heal," said DMI Director Tricia Walker. "Using digital media tools available today will empower the young participants in this program to find their unique voice in creating new songs and recordings that can address issues of race and how music can promote healing."
Travis Calvin, a Delta State alumnus, serves as the coordinator of the DMI Mobile Lab and leads the HWG program.
"I am excited to build on the success we've had with this project. I'm looking forward to developing and empowering HWG alumni to become young leaders in their communities, using music and digital media as a platform to address issues of concern in their schools and hometowns," said Calvin.
A network of HWG alumni from Bolivar, Coahoma, Leflore, Sunflower and Washington counties will be selected and trained to assist local participants in the project. Participants generate ideas by engaging in open dialogue sessions before crafting original songs and producing audio recordings using the professional studios and equipment of the DMI and the DMI Mobile Music Lab.
The HWG 2.0 program provides instruction in commercial songwriting, audio engineering and digital media for participants in the counties served, giving them opportunities to explore and promote racial healing through the creation and dissemination of original songs. The project will foster the creation and recording of 30-40 original songs and musical works exploring and promoting racial healing. The development of the multimedia toolkit will serve as a guide for student leaders, teachers and administrators interested in facilitating the HWG 2.0 program in their local communities.
"Mississippi is the birthplace of America's music and also the repository of a complicated history regarding race," said Walker. "This unique project will provide young people in the Delta with an opportunity to explore this ongoing issue by using the popular medium of contemporary music and audio production."
The DMI offers a bachelor's in entertainment industry studies from the College of Arts and Sciences at Delta State. The focus of the DMI is to provide students with a broad and thorough education in the technological, creative and business areas of the music and entertainment industry. For more information, contact 662-846-4579 or visit http://dmi.deltastate.edu.
The WKKF is a private foundation by breakfast cereal pioneer, Will Keith Kellogg, and is among the largest philanthropic foundations in the United States. Guided by the belief that all children should have an equal opportunity to thrive, WKKF works with communities to create conditions for vulnerable children so they can realize their full potential in school, work and life.
WKKF works throughout the U.S. and internationally, as well as with sovereign tribes. Special emphasis is paid to priority places where there are high concentrations of poverty and where children face significant barriers to success. The organization's priority areas in the U.S. include Michigan, Mississippi, New Mexico and New Orleans; and internationally, are in Mexico and Haiti. For more information, visit www.wkkf.org.