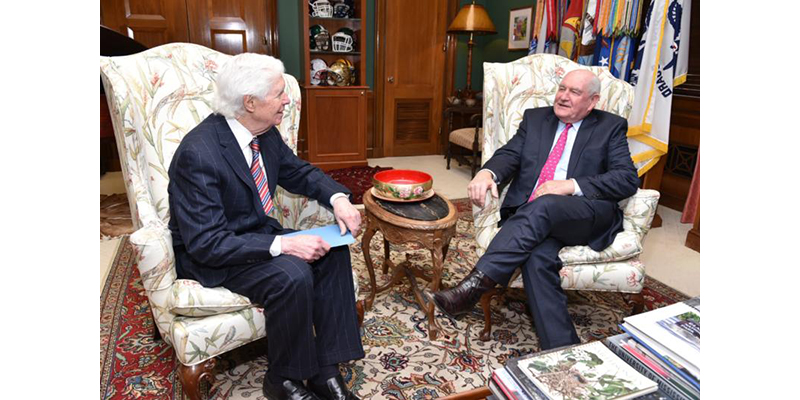 Secretary of Agriculture Sonny Perdue (right) meets with U.S. Senator Thad Cochran of Mississippi before his confirmation.
Delta Council President Harry Simmons, of Yazoo City, announced today that U.S. Secretary of Agriculture George Ervin "Sonny" Perdue will be the featured guest and keynote speaker for the 82nd annual meeting of Delta Council, to be held on the Delta State University campus at 10:30 a.m on June 9 at the Bologna Performing Arts Center.
"We are so pleased that agriculture's friend from Georgia, Sonny Perdue, will be the featured speaker for this year's Delta Council annual meeting," said Simmons, an aquaculture and row crop farmer and catfish processor. "Secretary Perdue has an impressive background as an agribusiness man and two-term successful governor of Georgia, and we look forward to the opportunity to meet with him and hear his thoughts on the future of America's agricultural industry."
Perdue, a native of Perry, Georgia, earned a doctorate in veterinary medicine from the University of Georgia. While still in school, Perdue volunteered to serve his country in the U.S. Air Force, receiving an honorable discharge in 1974 with the rank of captain. Following a brief tenure as a practicing veterinarian, Perdue started two businesses from the ground up, concentrating in agribusiness and transportation.
His public service began in the 1980s when he served on the Houston County Planning and Zoning Board. He then successfully ran for the state senate, becoming majority leader in just four years, followed by his election as president pro tempore.
In January 2003, Perdue was elected to serve as Georgia's governor and he won reelection by an overwhelming margin in November 2006. As governor, Perdue focused on improving education, providing better access to health care, creating quality jobs for Georgians, and increasing resources for stronger, safer communities. He was appointed by President Trump to be the 31st Secretary of Agriculture and was confirmed in late May by the United States Senate.
In addition to the keynote address by Perdue, Delta Council will honor more than 140 high school seniors as Delta Honor Graduates with the ceremony beginning at 9 a.m., located under the tent next to the BPAC. Dignitaries will welcome the graduates, their families and school officials to main event and present them with engraved certificates recognizing them as 2017 Honor Graduates. The top Honor Graduate will be selected by higher education officials and be presented a $2,500 scholarship during the 10:30 a.m. business session.
"The Delta Honor Graduate event is designed to raise the level of awareness of parents, teachers and our local communities of the importance of bringing these bright young minds back to the Delta after they have completed their formal and advanced education," said Cass Pennington of Indianola, who serves as chairman of the Delta Council Education and Health Policy Committee.
The tradition of a fried catfish luncheon will conclude the program for the 82nd annual event on the grounds of the quadrangle on the Delta State campus.
Sponsors for event include: BankPlus; Catfish Farmers of Mississippi; Cotton, Inc.; Sanders, Inc.; Mississippi Corn Promotion Board; Mississippi Rice Promotion Board; Mississippi Soybean Promotion Board; and Southern Ag Credit/Mississippi Land Bank.