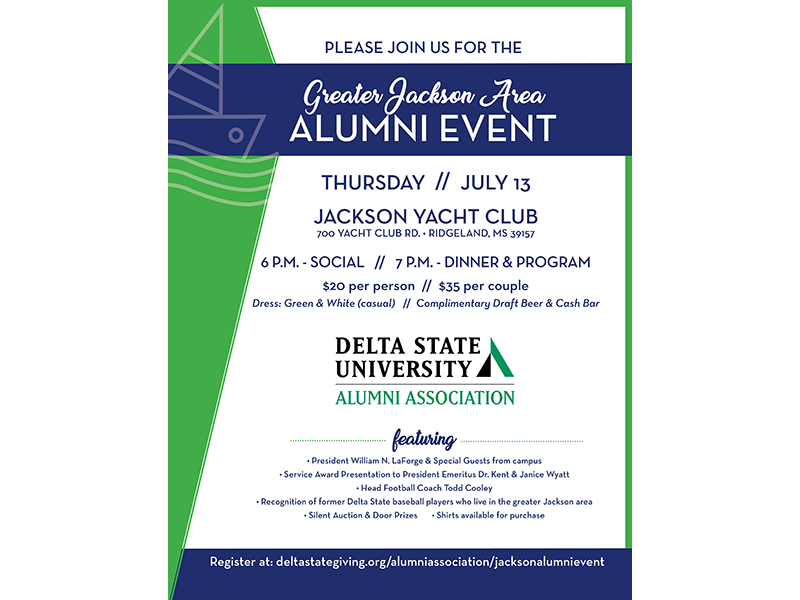 The Delta State University National Alumni Association will be traveling to Jackson for the annual Greater Jackson Area Alumni Event on Thursday at 6 p.m. More than 100 alumni and friends are expected to attend the event held at the Jackson Yacht Club.
Speakers for the event include Delta State President William N. LaForge and head football coach Todd Cooley. Entertainment will be provided by Delta State alum Brady Stewart.
"We're really looking forward to another great event here in Jackson," said Jeff Arnold, president of the Greater Jackson Alumni Chapter. "The committee has been working very strategically to recruit alumni and friends of Delta State to attend, uncover event sponsors, and collect items for the silent auction."
All proceeds from the silent auction go to the Greater Jackson Area Scholarship, which is awarded annually to a student from the greater Jackson area who will attend Delta State.
Each year at the alumni event, the chapter recognizes an individual for his or her service to Delta State. This year, the chapter will recognize President Emeritus Dr. Kent Wyatt and former first lady Janice Wyatt. The chapter will also recognize former Delta State baseball players who live in the Jackson area.
The Alumni Association is still accepting sponsorships for this event. Businesses or individuals can sponsor at the $100, $250 or $500 levels. Pre-register online at www.deltastategiving.org/alumniassociation/jacksonalumnievent. Walk-ins are welcome the night of the event.
Save the dates for this year's big alumni events: Pig Pickin' (Oct. 7) and Homecoming (Nov. 11.).
For more information on the DSUNAA, call 662-846-4660 or email alumni@deltastate.edu. To stay up to date with DSUNAA activities, follow these social media sites: Facebook (Statesmen Graduates), Twitter (@DSU_Alumni), LinkedIn (DSU alumni), Instagram (dsualumni) and You Tube (dsualumni1).