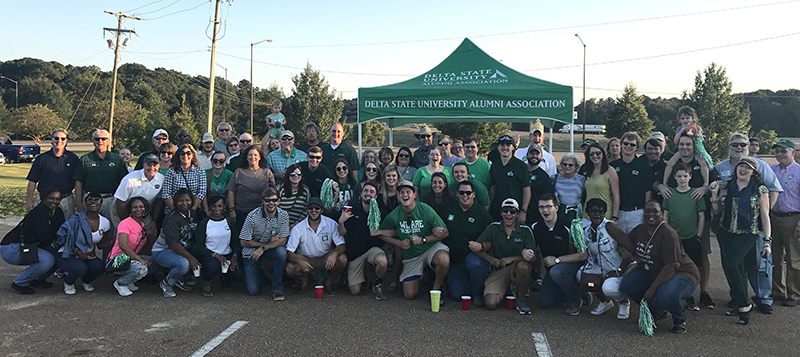 Alumni, students and friends of Delta State University enjoyed food, fellowship and a pregame pep rally featuring the Delta State Marching Band, cheerleaders and Delta Belles prior to the Statesmen victory over Mississippi College in Clinton, Mississippi on Sept. 30 in the Heritage Bell Classic.
View footage from the event on the official DSU Alumni YouTube account at https://youtu.be/-CoBAyXncq8.

DSU went on to defeat MC 30-17, improving their season record to 5-0. The victory makes Delta State the only nationally ranked football team in the state.
Read more about the game at http://www.gostatesmen.com/news/2017/9/30/football-statesmen-defeat-mc-in-sixth-straight-heritage-bell-classic.aspx?path=football.

Learn more about this weekend's game and a packed schedule of Pig Pickin' activities at www.dsupigpickin.com.

To view the most recent issue of the Delta State Alumni magazine visit https://issuu.com/deltastateuniversity/docs/sumfall_mag17_issu.

To stay up to date on the Alumni Association's activities, follow these social media sites: Facebook (Statesmen Graduates), Twitter (@DSU_Alumni), LinkedIn (DSU alumni), Instagram (dsualumni) and You Tube (dsualumni1). Make plans for this year's Pig Pickin' (Oct. 7) and Homecoming (Nov. 11).