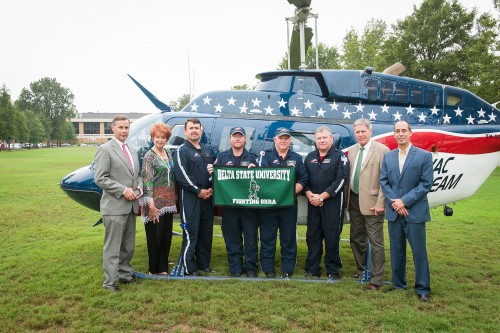 The Delta State University National Alumni Association is excited to announce Air Evac Lifeteam #87 has renewed their membership as an Okra Level Corporate Sponsor.
"We look forward to our relationship with the Delta State University National Alumni Association," said Lee Williams, program director of the Air Evac Lifeteam.
Air Evac EMS, Inc., which operates Air Evac Lifeteam, is the largest independently owned and operated membership-supported air medical service in the United States, conducting its operations through 111 mutually-supporting air medical bases across 15 states. The company has established itself as the preeminent provider of air ambulance services to communities in need of advanced emergency health care and rapid medical transport.
"We are so appreciative of all our corporate sponsors and everything they do for us," said Jeffrey Farris, director of Alumni Affairs. "I would like to encourage alumni and friends of Delta State to consider becoming a member of Air Evac Lifeteam and supporting them."
For more information on corporate sponsorships, contact the Alumni Association at 662-846-4660. To stay up to date on the Alumni Association's activities, follow these social media sites: Facebook (Statesmen Graduates), Twitter (@DSU_Alumni), Tumblr (www.dsualumni.tumblr.com), LinkedIn (DSU alumni), Instagram (dsualumni) and You Tube (dsualumni1).