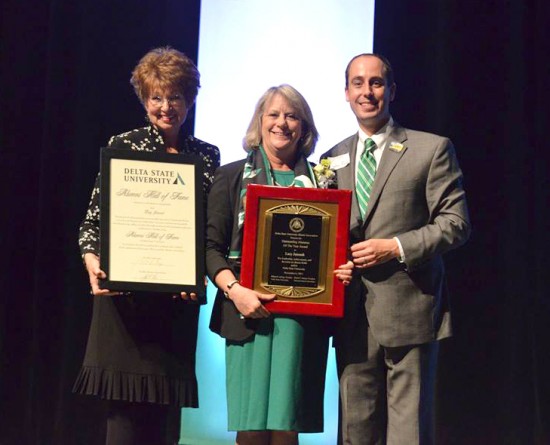 The Delta State University Alumni Association is seeking nominations for the 2016 Alumni Service Awards, Alumni Hall of Fame and Outstanding Alumnus of the Year. The deadline for nominations is May 27. The award recipients will be recognized at the Annual Alumni Awards Gala on October 14 during Homecoming weekend.
"The Annual Alumni Awards Gala celebrates the accomplishments of our alumni and friends of Delta State University," said Jeffrey Farris, director of Alumni Affairs. "The awards banquet gives us the opportunity to showcase our alums, invite alumni to campus, and host a formal gathering in the Bologna Performing Arts Center."
The Outstanding Alumnus of the Year award was established to give recognition to an alumnus of Delta State who has made significant contributions to human or institutional programs in which a situation, an institution or a movement has been materially changed for the better because of that individual's personal participation.
Induction into the Delta State University Alumni Hall of Fame is the highest honor bestowed upon an individual by the Alumni Association. Established in 2007, the Alumni Hall of Fame is extended to alumni and friends who have achieved professional distinction and made significant community service contributions at the local, national and/or international level, and who have thus brought honor and distinction to the university.
The Gladys Castle "Friend of Delta State" Service Award was named for Gladys Castle, a 46-year employee of Delta State who served as the first alumni secretary, and is presented to recognize outstanding service and contributions to the university by a non-alumnus.
The Kent Wyatt "Young Alumnus" Service Award is named for Dr. Forest Kent Wyatt, president emeritus of 24 years, and recognizes outstanding service and contributions to Delta State by a young alumnus 36 years of age or younger.
The Hugh Ellis Walker Alumni Service Award is named for Hugh Ellis Walker, a 24-year director of the Delta State University Alumni/Foundation, and recognizes outstanding service and contributions to Delta State by an alumnus.
The Legacy Award is presented to someone who has made an institutional change upon the university. The Alumni Chapter of the Year is presented to an alumni chapter that is dedicated to raising scholarship dollars for Delta State students in their area.
The Dr. Henry Outlaw Faculty and Staff Service Award was established in 2014 as a way to recognize former faculty or staff members who have made a significant influence in the life of the university and/or the National Alumni Association.
To nominate a person or a group for an award, and to view past recipients, visit http://www.deltastategiving.org/alumniassociation/alumniawardwinners. Nomination forms can be submitted online or mailed to DSU Box 3104 Cleveland, MS 38733.
To stay up to date on the Alumni Association's activities, follow these social media sites: Facebook (Statesmen Graduates), Twitter (@DSU_Alumni), Tumblr (http://www.dsualumni.tumblr.com), LinkedIn (DSU alumni), Instagram (dsualumni) and You Tube (dsualumni1). Save the date for this year's Pig Pickin' (Sept. 24) and Homecoming (Oct. 15).