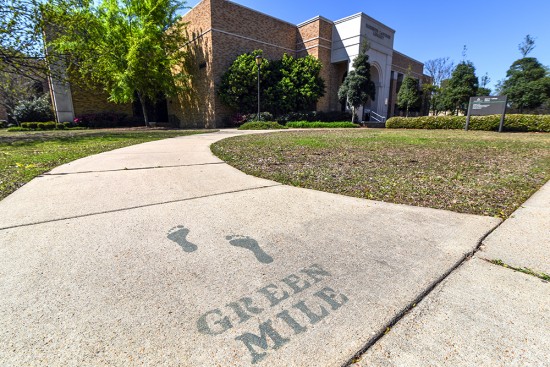 A number of student groups will unite April 19 to repaint Delta State's Green Mile fitness trail that works its way across campus, a project introduced in 2010 to promote overall health and wellness at the institution.
The repainting, scheduled for 1:30-3:30 p.m., was originally planned during the university's 90th anniversary celebration in 2015, but due to weather and schedule conflicts, the event will take place later this month. The event will kick off at the Alumni clock next to the Student Union.
Led by First Lady Nancy LaForge and members of the Dedicated Statesmen Association, student groups, athletic teams and Greek organizations will come together to brighten the trail markings with new paint.
LaForge thought the project would be a meaningful campus beautification component of the university's anniversary celebration.
"I walk every day for exercise. It is good cardio, and I enjoy the routine, peaceful experience," said LaForge. "The Green Mile is a Delta State tradition that deserves to be restored. You can begin at a set of footprints and end there knowing you have walked a mile. Hats off to Dianne Blansett, Elise Jenkins and the Dedicated Statesmen for coordinating this project."
The event will be judged and trophies and prizes will be awarded to winning teams. Judging will be based on neatness and completion. All materials and supplies will be provided to the teams.
Jeanna Wilkes, director of Student Life, has helped organized the groups taking part.
"I believe this is an important project to complete because it allows student groups the opportunity to give back to the university by renewing the aesthetic look to the Green Mile," said Wilkes. "Renewing the look of the Green Mile is vital to beautifying our campus's appearance, and encouraging a healthy physique to those utilizing the mile."
Student groups looking to sign up for the event are asked to contact Wilkes at jdwilkes@deltastate.edu or 662-846-6666. The deadline for signing up is April 14 at 5 p.m.
Follow all campus news at www.deltastate.edu.