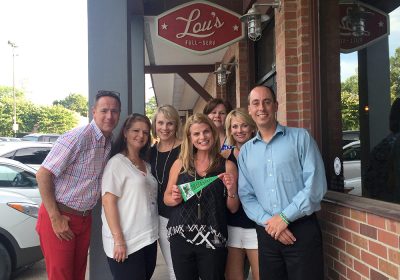 The Delta State University National Alumni Association will be traveling to Jackson for the annual Greater Jackson Area Alumni Event July 14 at the Jackson Yacht Club.
The evening begins with a social at 6 p.m. followed by the program at 7 p.m. featuring Delta State President William  N. LaForge, Alumni-Foundation staff, and
other guests from campus. Entertainment will be provided by Douglas Hurd. Complimentary draft beer and a cash bar will be available for guests 21 and over.
The silent auction is always a signature component of the Jackson alumni event. All proceeds raised from the auction benefit the Greater Jackson Area Scholarship, which is awarded to incoming freshmen from the area attending Delta State. The 2016-17 scholarship recipients are Hannah McMardle, Madison
Sims and Elizabeth Swindle.
The annual event would not be possible without the generosity of sponsors. This year's sponsors include: BankPlus, Polles Properties, BKD, Casey Myrick, and AvantGarde Strategies, LLC. Corporate Sponsors of the Alumni Association are: Polk's Meat Products, Bolivar Medical Center, Celia Manley Real Estate, Hey Joe's, Air Evac Lifeteam, Patrick Davis State Farm and Renasant Bank.
To purchase tickets or donate to the fund, visit http://www.deltastategiving.org/alumniassociation/jacksonalumnievent. Join the Facebook group at Statesmen Graduates, Greater Jackson Area Alumni Event (https://www.facebook.com/events/1766770780270888/).
To stay up to date on the Alumni Association's activities, follow these social media sites: Facebook (Statesmen Graduates), Twitter (@DSU_Alumni), Tumblr (http://www.dsualumni.tumblr.com), LinkedIn (DSU alumni), Instagram (dsualumni) and You Tube (dsualumni1). Save the date for this year's Pig Pickin' (Sept. 24) and Homecoming (Oct. 15).