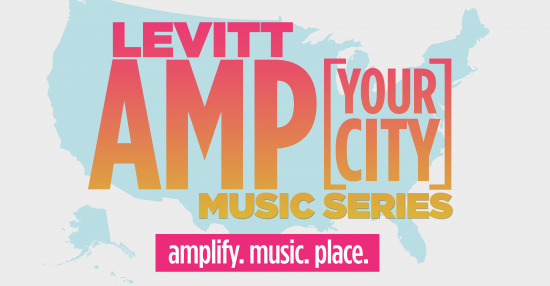 Delta State and the Cleveland community are getting ready for this fall's concert series made possible through the Levitt AMP [Cleveland] grant awarded by Levitt Pavilions.
Amber Foster, Levitt Amp Cleveland coordinator, is a current Delta Music Institute student who is serving in this leadership role to fulfill her senior project. Expecting to graduate in December of 2015, Foster understands the valuable experience she will gain through this concert series.
"I am elated to take on this concert series as my senior project," said Foster. "I'm really getting a huge dose of hands on experience that will further prepare me for the entertainment business. The fact that we have this opportunity to bring the community together in music is just awesome."
Foster said that a whole team in Cleveland is dedicated to making this a great opportunity for the city. The lineup for the series will soon be announced.
"Each night we will have different genres of music, so there will be something new every week along with kids activities and food. Also, these are free shows. I can't wait to see all the people that come out," said Foster.
The concert project will reflect the three goals defined by Levitt Pavilions — to amplify community pride and the city's unique character; enrich lives through the power of free, live music; and illustrate the importance of vibrant public places.
Lisa Cooley, Team Cleveland Main Street manager for the Cleveland-Bolivar County Chamber of Commerce, said that the grant provides the community a unique opportunity.
"The Levitt program is great for Cleveland because it will provide quality entertainment while also bringing people into our downtown, and it will bring visitors to Cleveland," said Cooley. "Anytime we bring people into our community and into our downtown, it creates an economic boost for our local businesses."
The concert series will require community support from volunteers, who can register at this link: http://concerts.levittamp.org/volunteer_cleveland.
"We're looking for enthusiastic, dedicated volunteers who'd like to use their love of music and people to enhance the Levitt AMP experience," said Foster. "Help make the 10 weeks of free concerts at the Green Space on the Crosstie Walking Trail at College Street a huge success."
The Levitt AMP Cleveland Music Series is supported in part by Levitt Pavilions, the national nonprofit behind the largest free outdoor concert series in America. Dedicated to strengthening the social fabric of our communities, Levitt partners with cities to transform neglected public spaces into thriving destinations through the power of free, live music.
In 2015, free Levitt concerts will take place in 16 cities across 14 states, all featuring a rich array of music genres and high caliber talent. In addition to Levitt AMP, Levitt forms the only national network of nonprofit outdoor music venues, each presenting 50+ free concerts every year. Within this region is the Levitt Shell (www.levitshell.org) in Memphis, Tenn. with concerts taking place this May, June, July, September and October. Learn more about locations and impact: www.levittpavilions.org.