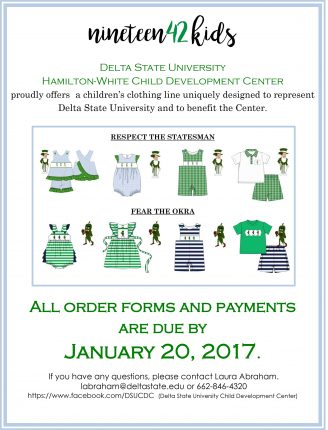 We are proud to offer a children's clothing line, Nineteen42 Kids, uniquely designed to represent Delta State University and to benefit the Hamilton-White Child Development Center.
Items are being sold as a "pre-order." Outfits are expected to arrive late March.
Each outfit/set is $40.
Orders can be picked up in DSU Ewing Hall or shipped for an additional $2 per outfit.
Smocked Statesman and Okra outfits for boys and girls sizes 3m-7. With enough interest, we will be able to order larger sizes than originally included on the order form. There is a minimum order requirement per size, but as long as we can meet that minimum, we will be happy to order other sizes. Please indicate the size desired on the order form if it is not included. If minimum orders are not met, we will contact you before orders are placed.
Print order forms and mail with payment to DSU CDC, DSU Box 3273, Cleveland, MS 38733 or drop off in Ewing 141.
All order forms and payments are due by January 20, 2017.
For more information:
Facebook page: Delta State University Child Development Center
https://www.facebook.com/DSUCDC
Visit: DSU Ewing Hall Office 141
Email: labraham@deltastate.edu
Call: 662-846-4320